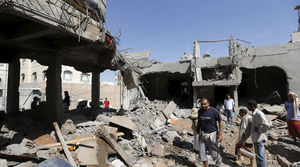 Yemen is the worst country in the world for deaths and injuries caused by explosive weapons, according to a new report published amid claims that British arms sales to Saudi Arabia are prolonging and deepening the conflict.
"Yemen is the worst country for civilian deaths and injuries from explosive weapon use in the first seven months of 2015," argued report author Robert Perkins in a blog for Action on Armed Violence (AOAV).
"Much of this chaos is due to the use of explosive weapons with wide area impacts in populated areas across the country,"
he added.
"As of 10 September 2015, the UN Office of the High Commissioner for Human Rights (OHCHR) had registered 2,204 civilian deaths and 4,711 civilian injuries from all forms of armed violence in Yemen."
Death and injuries resulting from explosive munitions are not the only issue affecting Yemenis, Perkins writes, as
"millions more have suffered from additional devastating consequences in the country, including poverty, malnutrition, insecurity, and limited access to health and sanitation."
In September, Oxfam UK said the
conflict in Yemen has been exacerbated by the UK government's arms deals with Saudi Arabia, causing a terrible humanitarian catastrophe and potentially placing the government in breach of international law.
The ongoing war has seen Saudi Arabia, backed by US and UK arms, carry out airstrikes on Houthi rebels attempting to take control of Yemen.
International law states that arms deals should be prohibited if there is a risk they could be used to commit war crimes or human rights abuses
, the charity said, adding the UK's response to the conflict has been a "
paradox.
"
The British government insists is has not been directly involved in the bombings, but
Oxfam says the UK has been replenishing Saudi weapons since the conflict began
. Simultaneously, it has been donating money from the Department of International Development to aid the millions of civilians caught up in Saudi bombing raids, which have targeted factories, warehouses and markets.