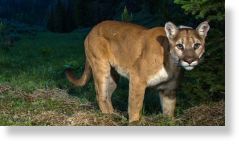 With a cougar's jaws wrapped around the head of his two-year-old daughter, Travis Nielsen selflessly did what any other parent would do.
The Tahsis, B.C. father fired a punch at the big cat and shielded his daughter, Bree, before it could do any more harm.
The terrifying scene unfolded at a property in the remote western Vancouver Island community at around 12:30 p.m. Monday.
Nielsen, his wife and their daughter were sitting in deck chairs in their backyard when suddenly, the animal pounced on the toddler from behind.
"I immediately reacted. I punched the cougar, and then I kind of shielded my daughter behind me when he let her go," he said.
The father said he then yelled at the cougar to get away, and it hesitated before taking off to a nearby tree.
A BC Conservation Service officer responding to the scene found a cougar in the area and destroyed the animal, but it not been confirmed that it was the same cat that attacked the toddler.
The little girl was taken to hospital and treated for a laceration on her earlobe from the animal's teeth, as well as some scratches on her chest and back, but was otherwise miraculously okay.
"It wasn't a huge animal, but it was bigger than my daughter, that's for sure," he said. "It could've been a lot worse."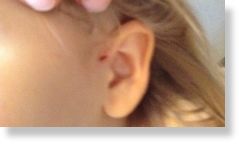 Conservation officers credited Nielsen for preventing an even worse outcome.
"I think it in large part had to do with her parents being so closed and her dad being willing to have a good, strong right hook," Sgt. Ben York said.
Police also responded after the attack, and trained hounds were used to sniff out any other cougars in the area.
York said it appeared to be a young cat that could possibly still belong to a family or was just dispersing from its family unit.
He said it's not unusual to see cougars or bears in Tahsis,
but there haven't been any recent reports of animal attacks.
Nielsen said in all his time on Vancouver Island, he's never seen anything like it.
"Absolutely not. I've never even seen one, and I've been on the Island for 10 years. I haven't even seen one on the highway or on the road," he said, adding, "I think we're going to be building a fence really soon."