Shelley and Simon Saxton-Cooper died when a huge gas explosion tore through their house, causing a major fire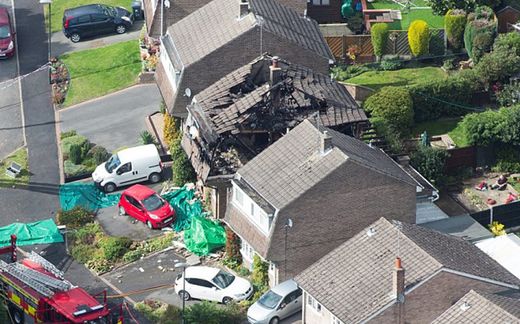 The cause of
an explosion and fire
which killed husband and wife Simon and Shelley Saxton-Cooper in Derbyshire is being treated as suspicious, Derbyshire Police said today.
Forensic teams are working to piece together the cause of the explosion and fire in which the man and woman, named locally as Simon Saxton-Cooper, 50, and his wife Shelley, 45, died on Sunday.
Police said they are now treating the incident in Riddings, near Alfreton, Derbyshire, as suspicious and Mrs Saxton-Cooper's death as murder after examinatiions revealed she had been wounded before the explosion.
Detectives said they were not looking for anyone else in connection with the incident.
Chief Superintendent Sunita Gamblin, of Derbyshire Police, said: "Although we haven't made formal identifications of the man and woman who died, we believe they are Shelley and Simon Saxton-Cooper.
"We believe that Shelley was wounded before the explosion and fire and we are treating her death as murder.
"We're still unable to say how either she or her husband died as post mortem examinations haven't been completed.
"Police, crime scene investigators and fire investigation specialists are working through the scene of the fire to find out exactly how it started and what happened.
"We don't believe, at this time, that anyone else is involved."
Flowers have been laid in the street, with one tribute saying "Hearts are broken. Married many years and now you are at peace together. A tragedy your lives should end this way."
Neighbours said the couple were "lovely".
Jayne Titchmarsh, who lives two doors away, said: "I knew the couple a little bit, I used to see them walking dogs in the morning and we would chat about family and things like that.
"It's just such a shock really because I used to see them most days. They were a lovely couple, just so close. It's funny that they've gone together really, just so sad.
"I just heard like a loud thunder. I ran to the window and saw debris coming down across the window and there were flames on the front.
"Hearts are broken. Married many years and now you are at peace together. A tragedy your lives should end this way." Tribute left at the scene
"I just couldn't believe it. The fire really took off. Everyone was shouting 'Get out, get out' and I just ran with my son because we thought it was going to catch light.
"It was just really frightening. I thought it might spread. We ran down the street and started coming back and then police, fire engines and everyone arrived.
"You could see the smoke going into the sky, it was just horrific."
It is reported that Mrs Saxton-Cooper's parents lived next door to the couple.
Her father is said to have made attempts at a rescue, along with an airport firefighter who lived nearby and an off-duty policeman.
East Midlands Airport fireman Paul Archer, who lives in a neighbouring street, told how he climbed the stairs of the blazing house to search for casualties but was beaten back by intense heat.
Mr Archer, 48, said: "It didn't sound like a massive explosion - it sounded like something big had been dropped."
Comment:
Based on this witness' description there may be another explanation which should be considered, that the explosion and fire was the result of a small meteorite or comet fragment. There are many recent documented cases:
The father-of-two put on old firefighting equipment stored in his garage, including a tunic, a flash-hood and fire-retardant gloves, after the blast at 7.30am.
"The flames started straight away," he said. "One of the neighbours had got a key and they opened the back door. I made my way in shouting 'Can you hear me?' and the downstairs was really clear.
"I got to the bottom of the stairs, shouting again, and made my way up to the top of the stairs.
"By this time the house was pretty well ablaze - the front bedroom door was on fire but I was shouting 'Hello, can anyone hear me?"'
Mr Archer also saw flames in a rear bedroom and feared the roof might cave in, eventually leaving the house via the front door as he heard the sirens of the first fire appliances to arrive.
Post-mortem examinations will be carried out on the two bodies to determine the cause of death.