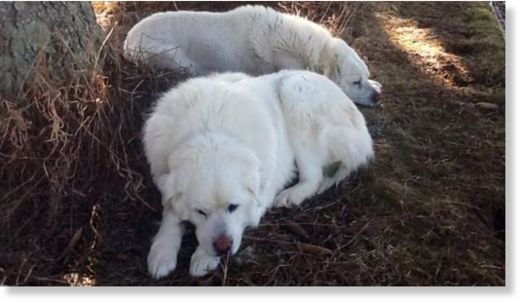 For the past eight years, farmer Paul Canik has been protecting his exotic sheep worth thousands of dollars from wolves with a
special breed of guard dog
called a Spanish Mastiff.
After eight years, the wolves have killed two of Canik's dogs.
The first one was over Mother's Day weekend, and a week ago, the second dog has been killed.
"Those dogs meant the world to us," said Canik.
The dogs were like family to him, and now, Canik has only four dogs left, three of which are puppies that he fears for.
"We had to tie our other three guard dogs up now every night," said Canik. "We tied them up so we don't lose them."
With his guard dogs tied up, the sheep are being left unprotected while Canik searches for anywhere to purchase more Spanish Mastiff dogs.
"We know we have to have dogs and we have to have them fast, and we don't know where to get them," said Canik.
Canik says he has contacted the Department of Natural Resources and the USDA Wildlife Services for help. According to Canik, the wolf is an endangered species, and both organizations have been unable to help.
The DNR and USDA Wildlife Services were not available for comment.