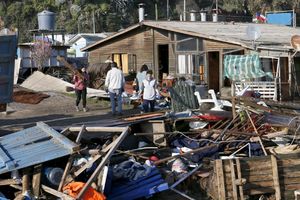 Residents sifted through the rubble of destroyed buildings in central Chile on Thursday after a magnitude 8.3 earthquake killed 11 people and sent powerful waves barreling into coastal areas, forcing more than 1 million people from their homes.
Aftershocks shook the South American country following Wednesday's quake, the strongest in the world this year and the biggest to hit Chile since 2010. But some residents expressed relief that the destruction had not been greater.
In the northern port city of Coquimbo, where waves of up to 4.5 meters (15 feet) slammed into the shore, large fishing boats washed up onto the streets and others splintered, littering the bay with debris.
"Everything is a mess. It was a disaster, a total loss.
Bottles and glasses shattered and the pipes in the bathroom and kitchen burst," said restaurant owner Melisa Pinones in the inland city of Illapel, near the epicenter.
Residents in the coastal town of Los Vilos tried to salvage belongings from dozens of beach front homes that were destroyed or severely damaged when the strong waves swept in.
The government had ordered evacuations from coastal areas after the powerful quake hit, seeking to avoid a repeat of a quake disaster in 2010 when authorities were slow to warn of a tsunami and hundreds were killed.
The latest quake and the heavy waves that followed caused flooding in coastal towns and knocked out power in the worst hit areas of central Chile, although most buildings, roads and ports held up well.
The quake was felt as far away as Buenos Aires in Argentina.
"It was like 1965 and 1971," said construction foreman Jorge Gallardo in Illapel, referring to two previous monster quakes that he experienced. "But the damage this time was not as bad as the magnitude of the earthquake would suggest it might have been."
President Michelle Bachelet, who said her government "learned a series of lessons" from previous disasters, began a tour of damaged areas in the town of La Serena, near Coquimbo.
"We're going to have go on the ground to see what the damages are and see where help is needed," she said.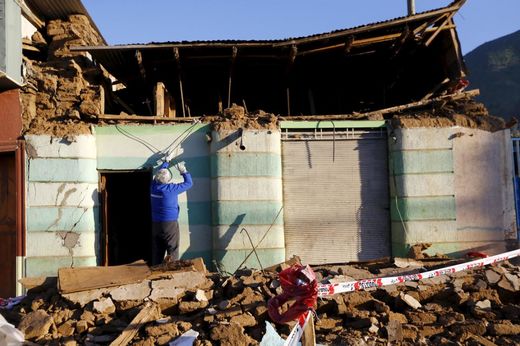 Chile is the world's top copper producer and operations were suspended at two big copper mines as a precaution, sending prices on the London Metal Exchange to two-month highs in early Asian trading on concern over disruptions to supplies. Prices later dipped as concerns about long term disruption subsided.
State copper miner Codelco [CODEL.UL] said on Thursday morning it had restarted operations at its open-pit Andina mine and its Ventanas smelter.
London-listed Antofagasta Plc said it was inspecting installations at its flagship Los Pelambres copper mine and expected to gradually resume operations during the afternoon. Los Pelambres is the closest major mine to the quake epicenter.
Chile's state oil company ENAP [ENAP.UL] also reported that its two oil refineries were operating normally after earlier disruptions and that fuel stocks were safe.
CLEARING RUBBLE
Tsunami alerts were issued after Wednesday's quake across the Pacific, from parts of California to Japan and French Polynesia, although waves were generally expected to be small. In Chile, the tsunami warning was lifted on Thursday morning.
Dozens of strong aftershocks continued to rattle central Chile, a largely agricultural region south of the mining belt.
One port used for exporting copper and other natural resources was completely shut down on Thursday and three others closed for smaller vessels, suggesting trade flows might be interrupted.
In Illapel, some businesses began opening and heavy machinery moved in to start clearing up the rubble. While there were generally few calls for more help, some residents accused the government of inaction.
"Ministers came, looked and said a few words but nothing more. That's how politicians are here," said a hardware store worker who identified himself as Mauricio. He added that he was still without electricity and running water.
Quake-prone Chile has strict building regulations so newer buildings are able to withstand even strong quakes. Many homes in Illapel and surrounding areas are simple, adobe houses and are more prone to damage.
A makeshift altar was erected in Illapel where a 26-year-old woman was killed by a wall that collapsed when the quake hit.
Chile is due to celebrate its national holiday on Friday, but some roads between Santiago and the north remained cut off.
The quake was the latest natural disaster to roil mining in Chile, which accounts for a third of global copper output. Northern Chile was hit by severe floods earlier this year, while a volcanic eruption caused problems for residents in the south.
Chile runs along a highly seismic and volcanic zone where tectonic plates meet and often experiences earthquakes. In 2014, an 8.2-magnitude quake struck near the northern city of Iquique. In 2010, an 8.8-magnitude earthquake in central-southern Chile triggered a massive tsunami, and more than 500 people were killed.
In the hours after that quake, President Bachelet and her government misjudged the extent of damage and declined offers of international aid, delaying the flow of assistance to disaster areas.
Bachelet's government was also slow to prevent looting after the quake. Its failings hit her high approval ratings at the end of her presidential term, although she remained popular and was elected again in 2013.
Map of the quake region
Source: Reuters
Additional reporting by Anthony Esposito, Hugh Bronstein, Antonio de la Jara and Fabian Cambero in Santiago, and Eric Onstad in London; Writing by Richard Lough and Sarah Marsh; Editing by Kieran Murray and Frances Kerry