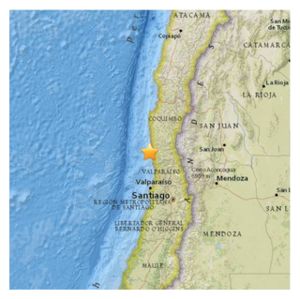 A powerful 8.3 magnitude earthquake followed by five strong aftershocks has struck off the coast of central Chile. Authorities have issued tsunami warning for the area, urging people along the coastline to evacuate.
"Based on the preliminary earthquake parameters ... widespread hazardous tsunami waves are possible," the Warning Center said, adding that greatest danger was for Chile and Peru.
Tsunami waves "along some coasts" of Chile could reach more than three meters above the tide level, PTWC warned. In Ecuador and Peru waves of up to one meter are possible.
The quake, which had originally been estimated as a magnitude 7.9, occurred at 7:54pm local time, 55 kilometers west-northwest of Illapel, and 232 kilometers north-northwest of Santiago, the USGS reported. Its epicenter center was located at a depth of 33 kilometers.
The earthquake prompted the National Emergency Office (ONEMI) to issue a tsunami alert for the entire coastline, as it urged people to "remain calm and go to the meeting points in security zones."
ONEMI reports that so far no of injuries or deaths have been confirmed. No disruption to basic services or infrastructure has yet been reported.
In Brazil, many people on social networks reported that they also felt a slight tremor. There are also reports coming from São Paulo, Santos, Campinas, Belém, São Luís and Pouso Alegre (MG). Firefighters from Sao Paulo received 50 calls from people who felt the quake, UOL News International reports.
In Argentina, internet users reported tremors in the cities of Santa Fe, Mendoza and Buenos Aires.