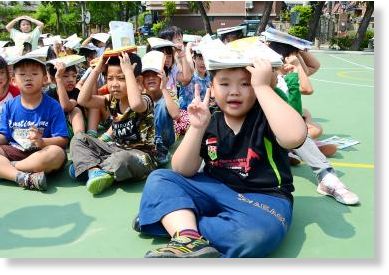 Chain reaction:The main magnitude 5.6 earthquake was preceded by a foreshock which was recorded at 1:56am, and aftershocks continued into the evening
The Central Weather Bureau (CWB) said a magnitude 5.6 earthquake that happened early yesterday morning was caused by the Philippine Sea Plate and Eurasian Plate moving against each other.
Data recorded by the bureau showed that the hypocenter of the quake, which occurred at 3:37am, was about 37km northeast of Hualien County at a depth of 15.3km.
The earthquake generated a local intensity of 5 in Yilan County's Nanao Township (南澳) and Hualien County's Heping Township (和平).
A local intensity of 3 was recorded in Taipei and New Taipei City.
The bureau's statistics showed that a total of 19 earthquakes were recorded between 12:31am and 2:30pm
. Seven of them were felt nationwide and 12 of them were local earthquakes.
Apart from the magnitude 5.6 earthquake, the remaining 18 earthquakes were between magnitude 3.6 and magnitude 4.7. The epicenters of the earthquakes recorded at 12:31am and 12:34am respectively were in Taitung County, and the remaining earthquakes had epicenters in Hualien County.
As of press time, another aftershock -- magnitude 5.5 -- occurred at 9:09 pm.
CWB seismology center director Kuo Kai-wen (郭鎧紋) said earthquakes are frequently recorded on the nation's east coast.
He said that serial earthquakes are recorded once or twice per month, adding they happen because the Philippine Sea Plate and Eurasian Plate move against each other.
He said that one should be concerned if no such serial earthquake is recorded, as movement releases seismic energy.
Kuo said yesterday's magnitude 5.6 earthquake was the main earthquake of a serial earthquake.
He said the foreshock of the main earthquake was the magnitude 4.7 quake recorded at 1:56am, adding that aftershocks continued until 2:30pm.
Kuo dismissed speculation that the earthquakes were triggered by a volcanic eruption at Mount Aso in Japan, saying that the two events were unrelated.