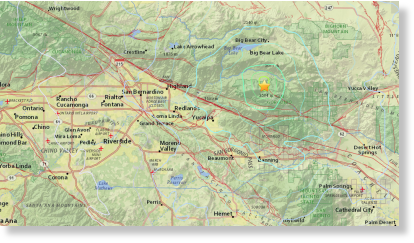 An earthquake with a magnitude of 4.0 struck near Big Bear on Wednesday morning, according to the U.S. Geological Survey.
The temblor — which had a preliminary magnitude of 4.5 — hit at approximately 9:10 a.m. and had a depth of 7 miles, USGS reported. It was centered 7 miles south southeast of Big Bear Lake and 8 miles south of Big Bear City.
The epicenter was a little more than 3 miles northwest of the 11,503-foot San Gorgonio Mountain, which is Southern California's highest peak. It was located some 4 1/2 miles northeast of the mountain community of Forest Falls.
The earthquake was downgraded to a 4.0 shortly after 9:45 a.m.
Following the quake, USGS seismologist Dr. Lucy Jones tweeted that a magnitude-4.5 earthquake in the San Bernardino Mountains is "normal" earthquake activity in Southern California.
She added there was a slight chance a larger quake could hit the area. The tremor struck near the San Andreas Fault, and as a result, there was a "very very slight" chance of an earthquake along that fault,
according to Jones.
Shortly after the temblor, San Bernardino County Supervisor Josie Gonzalez stated on Twitter that she felt approximately 20 seconds of shaking at the county's Government Center.
According to Dr. Jennifer Andrews of Caltech, the earthquake was widely felt in the area, with many reporting moderate shaking near the epicenter.
KTLA viewers reported the feeling tremor in Moreno Valley, Riverside, Hemet, Yucaipa and Burbank, among other areas.
About four minutes after the initial temblor, a quake with a magnitude of 2.4 struck the same area, according to USGS. It was followed at approximately 9:47 a.m. by a smaller one with a preliminary magnitude of 2.1.
There were no initial reports of damages or injuries.