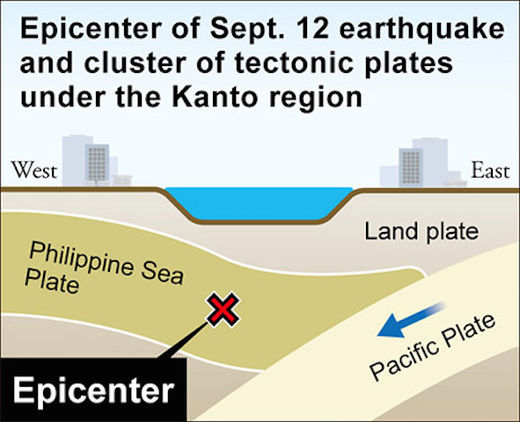 An earthquake with an estimated magnitude of 5.2 struck the Tokyo metropolitan area at 5:49 a.m. on Sept. 12, injuring at least 13 people.
The epicenter of the quake was about 57 kilometers beneath Tokyo Bay, the Japan Meteorological Agency said.
The quake recorded an intensity of lower 5 on the Japanese scale of 7 in Chofu, western Tokyo, and 4 in many of Tokyo's 23 wards, as well as Yokohama, Kawasaki, and other areas in Kanagawa Prefecture, southern Saitama Prefecture and Urayasu, and many other municipalities in Chiba Prefecture.
An intensity of 3 was recorded in parts in Ibaraki, Tochigi, Yamanashi, Gunma, Nagano and Shizuoka prefectures.
According to local fire departments, at least 11 people in Tokyo, one in Matsudo, Chiba Prefecture, and another in Sagamihara, Kanagawa Prefecture were injured in falls.
Among them, a woman in her 80s in Nakano Ward and a resident of Matsudo in her 60s fell from beds and suffered fractured limbs.
Several tectonic plates meet under Tokyo Bay and their jagged boundary lines trigger magnitude-5 to -6 earthquakes in the Kanto region every few years, agency officials explained.
The earthquake had no relation with major temblors whose epicenter is directly below Tokyo, which have repeatedly rattled the region in the past, the agency said.
It warned of a possible aftershock that could reach an intensity of around 4, which could exacerbate the damage caused by recent torrential rain and extensive floods in eastern Japan.