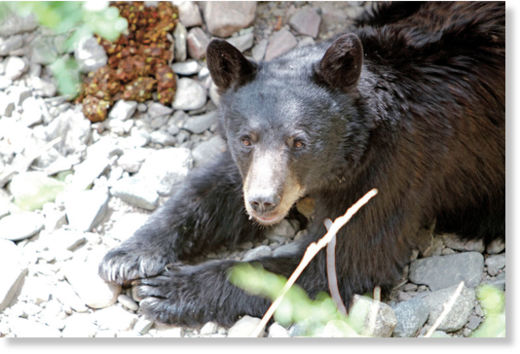 A black bear attacked a man running on a trail near Los Alamos this week,
marking the third bear attack on a person this year in New Mexico
, the state Department of Game and Fish said Thursday.
Officials said 2015 has seen the most bear attacks on humans in 16 years.
The Canyon de Valle Trail north of Los Alamos, where the attack occurred Wednesday, has been closed until further notice, and officers are looking for the adult female bear.
The 56-year-old Los Alamos man suffered deep flesh wounds and scratches to his head, chest and hands from fending off the bear, but he was able to walk 2.5 miles to his car, Game and Fish officials said. The man flagged down a motorist, who drove him to Los Alamos Medical Center. He was later transported to Christus St. Vincent Regional Medical Center for treatment.
The man, who was not identified, told officials that he had been running on the trail at about 7 p.m. Wednesday when he came across the female bear and her cub. The cub ran up a tree, and he tried to scare the mother bear away by making noise, the man said.
But the bear charged and knocked him into a streambed. The mother bear then began biting and clawing at his head, according to a Game and Fish Department report.
When the bear stopped attacking him, the man tried to stand up, he said, which prompted the bear to attack again.
Game and Fish Department spokesman Karl Moffatt said he doesn't know what game wardens will do if they catch the bear. "This was a sudden attack by a bear on someone who got between her and her cub," Moffatt said. "This wasn't a bear stalking a person."
Officials took hair samples to help identify the bear that attacked the runner. Game officers with hounds joined Los Alamos police and Los Alamos National Laboratory officers in scouring the area Thursday. If it's captured, the animal will be tested for rabies.
Two other bear attacks on humans occurred earlier this summer, according to officials. In early July, a black bear bit a Raton girl while she was sleeping in a tent outside her house. A bear also attacked and scratched a man who was hunting antlers in Lincoln County in June. Both people survived. Neither bear in those attacks was captured.
In an email Thursday evening, the Game and Fish Department said bears are now feeding on acorns and piñon nuts in areas "where people recreate, hunt, etc. This makes the chances of close encounters rise, which could lead to 'attacks' that are primarily defensive in nature. Vegetation is also full and grasses tall due to the rain which helps to make surprise encounters that much more likely."