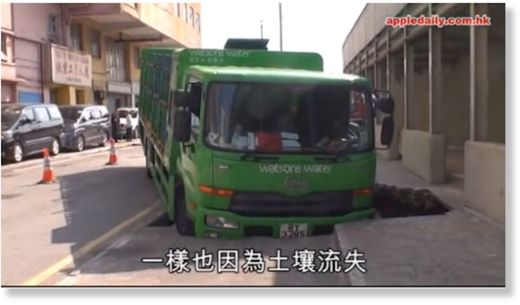 Yesterday at 2pm a large five-metre-deep and five-metre-wide pothole suddenly appeared under a lorry as it drove down Sunny Street in Ngau Tau Kok.
The road collapsed under the cab of the lorry, which was carrying Watson water jugs, but thankfully the driver and three passengers were able to climb out onto terra firma, reports
Apple Daily.
A worker arrived on the scene to figure out how to tow the truck out of the hole, but unfortunately as he stood peering over the edge of the water-filled sinkhole, it eroded further, causing him to fall in.
The 65-year-old swam to the edge of the hole and was able to tread water until he was rescued by other workers. He was thankfully unharmed.