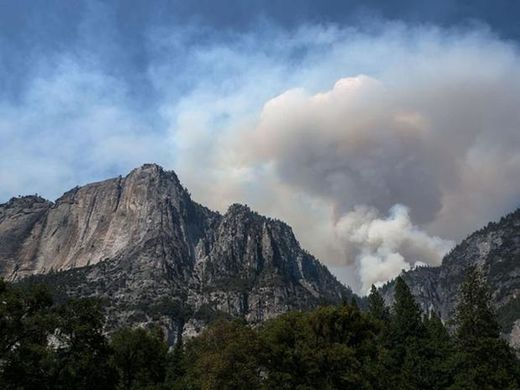 The smoke visible Tuesday in the Yosemite Valley is coming from the Tenaya Fire, which is located in Indian Canyon above the north rim of the Valley on both sides of the Lehamite trail, between the Valley and Tioga Road.
The fire was discovered last night and is currently estimated at 100 acres. The fire is spotting among dead trees creating much of the large smoke plume we are seeing in Yosemite Valley.
Full suppression efforts are underway, with two 20-person Type-1 hand crews on scene. Four air tankers and two helicopters are also assisting. Temperatures are expected to drop tonight which should help firefighting efforts. The cause of the fire is under investigation. Smoky conditions are likely to persist over the next few days.
Trails on the north rim of Yosemite Valley south of the Tioga Road and east of Yosemite Creek, to near Olmsted Point, are closed.
No estimate on a containment date was given.
Details:
Here
.
.