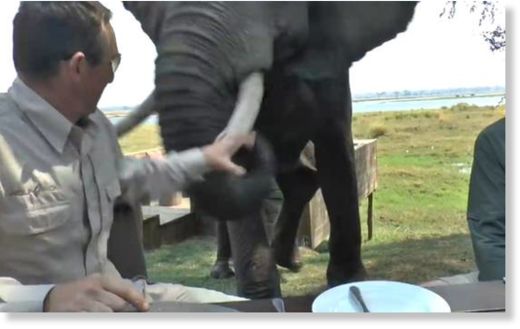 This is the terrifying moment when an elephant attacks a Northern Ireland man on holiday in Africa.
Stephen Montague was sitting with relatives in a restaurant in Zimbabwe when the animal swung its massive trunk at them, throwing them off their chairs.
Stephen's brother-in-law was wounded when the elephant's tusks cut into him. The family, who are on a photographic safari, seem to have had a lucky escape.
The animal went away when guards in the complex intervened. While elephants are generally not aggressive, males can be volatile and attack humans. Around 500 people a year are killed by elephants.
The dramatic video of the elephant charging at the tourists was posted on YouTube at the weekend. Last night, Stephen's parents told the
Belfast Telegraph
they were relieved that he had escaped without injury.
Speaking from his home in Beragh, Co Tyrone, his father Paddy said: "He is OK and he is continuing with his holiday in Zimbabwe.
He wouldn't let something like that stop him. He loves to go where the action is."
Stephen (39), his American wife Shannon and her family are visiting Mana Pools, a wildlife conservation area in northern Zimbabwe. They were sitting down to dinner in a restaurant in the national park when a bull elephant wandered over.
The party were delighted. "It's another boy ... a big boy," someone is heard to say.
The animal searched for food on the ground and a guard threw it something.
The elephant, which was just a few feet away from the group, started to twist its trunk and flapped its outstretched ears. It looked at them, then moved over slowly.
It swung its trunk at Stephen, sending him flying from his chair. It pulled back its trunk, then swung it at his brother-in-law, Shane Wolf, knocking him from his seat.
The animal slightly injured Shane when it put its tusks into him. He is seen at the end of the video lifting his shirt to show the marks it left.
Some plates, cutlery and glasses from the table were overturned during the assault. The guards at the complex clapped their hands and made noises to chase the elephant away. Stephen, Shannon, her father Mitch and Shane remained remarkably calm during the incident.
Stephen, who renovates houses, lived with Shannon in Northern Ireland until they moved to California earlier this year.
His mother Patricia said it wasn't the first safari trip the couple had been on. "These kind of holidays with wild animals wouldn't be for me but Stephen and Shannon love them.
"They took what happened in their stride. The elephant wandered into the compound looking for something to eat.
"One of the guards threw it something but that made it bolder and it headed over to the table. Stephen is fine and that's what is most important to us," she said.
In Africa and India, bull elephants have been known to attack entire villages, killing people and destroying homes.
One reason for males becoming aggressive and violent is their state of 'musth'. The word is Hindi for madness and is a time during which testosterone levels in the animals may rocket to 60 times higher than normal.
This is a period of increased sexual activity for the bull. In violent attacks, elephants have picked people up with their trunks and hurled them to the ground. They have also battered or impaled them with their tusks.
Far more often though it is elephants which are at the receiving end of human violence. Conservation groups claim that around 20,000 are killed by poachers every year for their ivory.