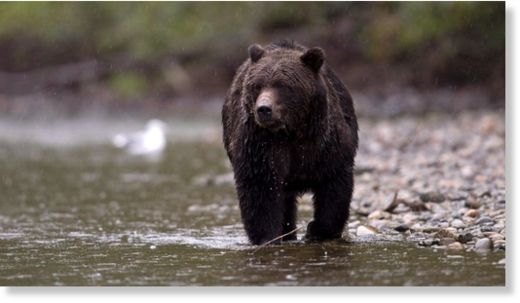 Two injured hunters spent the night on a remote mountainside in the B.C. Peace Region after being mauled by a mother grizzly bear with two cubs on Sunday.
The men had been hunting sheep south of Fort Nelson and were packing out the meat and head of their kill when they heard the bear, said Insp. Mark West of the B.C. Conservation Officer Service.
"[The] hunter hears a crack in bush, and a short — a very, very short distance away — is a sow grizzly bear accompanied by two cubs," he said.
The sow attacked one man, then the other intervened and she turned on him as well, said West. The second hunter fired a couple of shots, but officers don't know if the mother grizzly was hit.
The men have injuries to their heads and necks, said West. Their conditions have been described as serious and critical.
Very remote location
The hunters were in a very remote location, having travelled six hours by horseback and hiked a trail near the Besa River, after leaving Highway 97 north of Buckinghorse River, which is between Fort Nelson and Fort St. John.
Rescuers knew they were there because the men had a Spot satellite messenger, which sends an emergency alert with GPS coordinates to responders, but does not allow two-way communication.
Paramedics were called around 6:15 p.m. yesterday, but by the time they arrived with two medevac helicopters, it was too dark to rescue the hunters, said a B.C. Ambulance Service official.
Around 9 p.m. the Joint Rescue Co-ordination Centre in Victoria dispatched a Cormorant helicopter from Comox, on Vancouver Island, to help.
They weren't able to fly until 4 a.m. Monday, so paramedics gave the men first aid and stayed with them on the mountainside overnight, said West, before airlifting them to hospital in Fort Nelson. They were slated to be transferred to Vancouver General.
Defensive attack
This is the latest of several attacks this summer in B.C. by mother grizzlies
startled by humans and protecting their young.
"This is not a predatory attack, this is simply a defensive attack," said West.
"She's in close proximity with her cubs, sees an unnatural thing out there which is a person, [who] smells of meat, and immediately is protecting her cubs."
Last week, an elk hunter was charged by a mother grizzly outside of Cranbrook and in July, a Vancouver engineer kicked a grizzly in the face to end an attack near Bella Bella, after they surprised one another in the woods.
When threatened, grizzlies may run if they hear humans coming, but they are more likely to attack when startled, said West.
The hunters were in the "wrong place at the wrong time" and smelling of meat, he said.
"Quite frankly, the bear is the top predator in those areas and the king of the mountain."