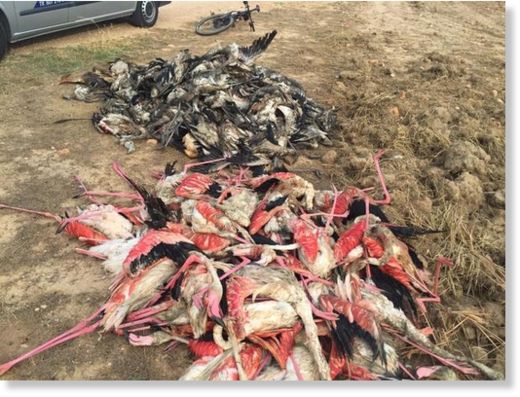 Dozens more birds were injured at the lagoon of Pétrola
There have been various stories in the news during the early part of this week concerning the rash of fierce hailstorms which has affected numerous areas of the country, and some of the most violent storms have hit the province of Albacete in the region of Castilla La Mancha.
One of these occurred at the saltwater lagoon of Pétrola in the east of the province on Monday,
where around 300 flamingoes are reported to have died
although an official total has not yet been finalized. The regional firefighting services were called in to help environmental officials remove the dead birds from the water,
and dozens of injured flamingoes were also rescued from the lagoon
by staff on board small zodiac boats which were brought from Almansa and Hellín as they worked all morning to clear the shallow water.
The same storm was responsible for at least 200 vehicles suffering damage on the A-31 motorway between Chinchilla and Bonete, where the windscreens of various cars heading west were shattered.
This is not the first time that the flamingoes of Pétrola have been hit by bad weather: in 2010 a similar storm caused the deaths of approximately 80 birds.