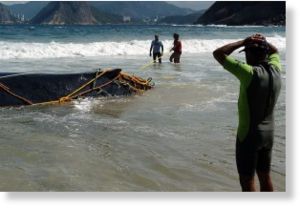 A humpback whale was found dead on the Pacific coast of the southern state of Chiapas, Mexico's Commission for Protected Natural Areas said.
The whale, measuring 11 meters (36 feet) long, was discovered on the beach in the municipality of Mapastepec, the commission said in a statement.
Officials at the La Encrucijada biosphere reserve said the whale died at sea and drifted for three days before washing up on the beach.
The whale's body bore no signs of blows or injuries and experts took samples of blood and tissue to determine the cause of death.
The size and consistency of the whale makes it difficult to bury and the topography prevents the use of heavy machinery to remove the body.
Authorities said it will be necessary to allow for the natural process of decomposition, discounting any health risk to the local population, as the nearest inhabited place is roughly 4 kilometers (2.5 miles) away.
Officials plan to preserve part of the skeleton to use it for educational purposes.