A section of southern Manitoba was hit hard with hail on Friday morning.
The town of Altona, about 115 km southwest of Winnipeg,
got hit with baseball-sized hail, leaving behind damaged roofs and smashed car windows.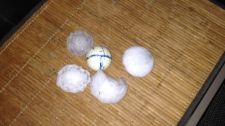 Environment Canada said they
received reports of hail from toonie to golf ball and baseball-sized hail,
the latter two in the vicinity of the Altona area.
Glenda MacPhail, a resident of Altona, said parking lots and streets were flooded as a result of the hail storm that lasted a solid 10 minutes.
She said multiple cars around the town were left smashed up.