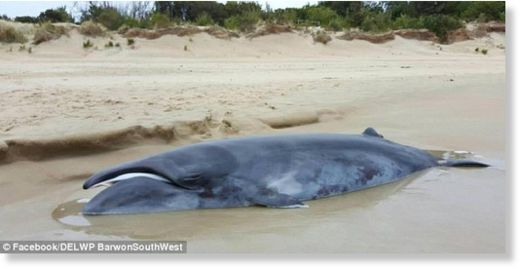 A rare whale has been found dead and washed up on Apollo Beach, on the west coast of Victoria on Wednesday.
The Department of Environment, Land, Water and Planning's senior biodiversity officer Mandy Watson told
Daily Mail
Australia that the pygmy whale carcass was 2.6 meters and probably weighed in at 500 kilograms.
'There's not a lot of evidence that suggests any struggle.... it's very likely that the whale died at sea and washed up,' officer Watson said.
The whale's carcass has been sent to researchers to determine its cause of death, which officer Watson said will take weeks.
'There's very little known about them, they're not endangered but very cryptic', Officer Watson said.
She indicated that they are not sure when it died or if it was independent of its mother.
Only five sightings of the elusive whale have been recorded, the last was in October last year at Sealer's Cover Wilson's Promontory, on Victoria's east coast.
The whale's skeleton will be taken to Muesum Victoria to join their whale evolution collection.
The pygmy are the smallest of the baleen whale species and can grow to be five meters and weigh up to be one to two tonnes.