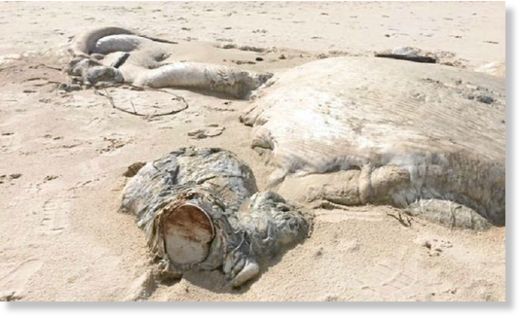 Local authorities will leave the stinking carcass of a whale washed up on Back Beach at Angourie to the ghost crabs and other organisms.
Media officer for the NSW Office of Environment and Heritage Lawrence Orel said National Parks and Wildlife Service rangers investigating the scene had decided to let nature take its course.
The dead whale, which has been partially eaten by sharks, washed up on the beach on Saturday.
Mr Orel said the ghost crabs and other beach organisms would quickly finish what the sharks had started.
"It's already partially buried by the natural action on the beach," he said.
"There's only two or three square metres of it still visible."
Mr Orel said the evidence of shark activity on the whale's body had to be expected.
"Sharks do a good job in the wild eating the bodies of animals that died in the ocean, cleaning up the eco-system," he said.
Mr Orel said it was hard to say how long it could take for the body to completely disappear.
"It's hard to say accurately, but it won't be too long," he said.
"It can depend a bit on the wave and sea action, but once the crabs get to work on it, the remains tend to disappear pretty quickly."
In other marine news a local surfer has reported seeing a large shark in the water off Turners Beach at Yamba.