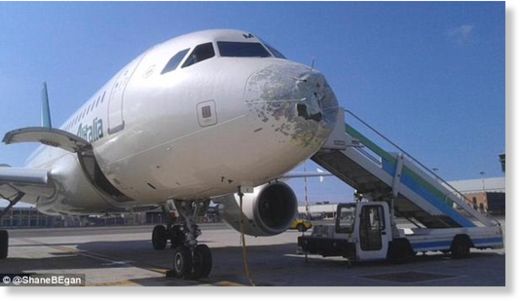 These shocking images show the extreme damage suffered by a plane after it was forced to make an emergency landing after ploughing through a violent hailstorm.
Pilots brought the plane down with one of the cockpit windshields completely shattered and the nose cone virtually destroyed.
And in video footage shot from a passenger on board, screams can be heard as the Alitalia aircraft makes a terrifying descent.
Flight AZ2016 took off from Rome's main airport of Fiumicino yesterday morning at 8.30am, en-route to Milan.
But around 30 minutes into the journey, the plane was forced to make an emergency landing after being battered by the violent hailstorm.
Speaking to
La Republica
, Luca Quadarella, who was on board the plane, said: 'For two or three minutes the fuselage [was engulfed] by a very loud noise.'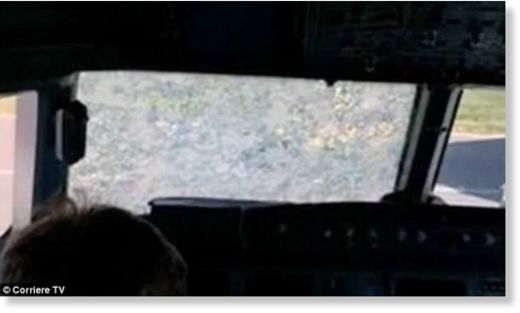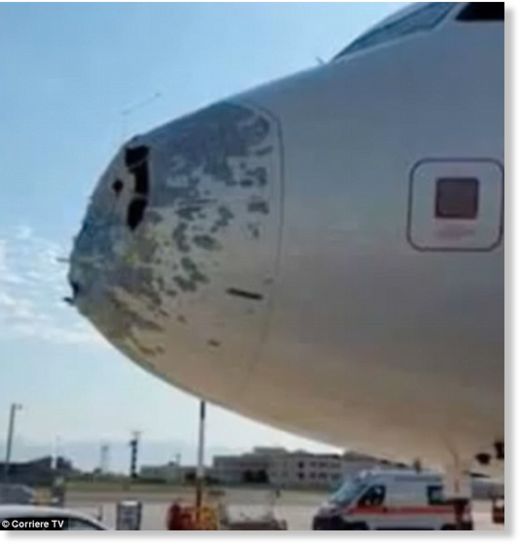 Some Italian media outlets are reporting that the Airbus A319-112 was hit by lightning, although the airline has not confirmed this.
Because the storm was so ferocious, the plane could not return to Rome, and was forced to land at Naples's Capodichino airport, where the passengers were escorted safely into the terminal.
La Stampa
reports that many passengers decided not to risk flying out later on, and opted to take the bus to their final destination.
Alitalia said in a statement: 'Alitalia flight AZ2016 from Rome to Milan Linate, scheduled on 8.00am this morning, went through an extraordinary and violent hailstorm soon after taking off from Fiumicino airport.
'Therefore the pilots decided to head to Naples airport where, thanks to the professionalism of the crew and to the excellent aircraft state of maintenance, the plane landed safely and without inconvenience to guests. The 110 passengers on board were assisted by Alitalia staff at Naples airport and left to Milan with the first available Alitalia direct flight.'