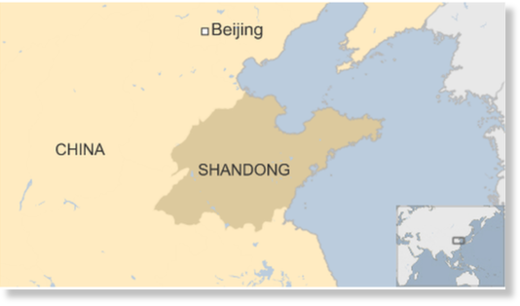 An explosion has been reported at a chemical warehouse in the eastern Chinese province of Shandong.
State media reported that firefighters had arrives at the scene and pictures posted to Weibo showed flames rising above an industrial site.
According to the
People's Daily
, the warehouse in Zibo County was located around 1km away from the nearest residential area.
The reported explosion came a week and a half after the huge blast which rocked the major Chinese port city of Tianjin.
That incident, which killed 114 people, has led to
a crackdown on corruption and illegal practices
in the country's manufacturing and chemical industries.
The Tianjin warehouse was found to be storing hundreds of tons of sodium cyanide, well above the legal limit, and was also situated too close to homes.
This week Chinese state media reported that the son of a former local police chief was secretly a joint owner of the Tianjin warehouse that went up in a devastating fireball, which also injured 674 and damaged some 17,000 homes.