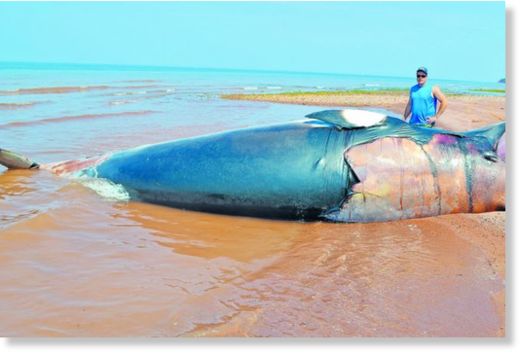 It wasn't what Darryl Donahue expected to find on his Tuesday morning ATV ride.
Lying on the sand, near the water's edge on the Roseville beach, off the Kelly's Road, was a 29-foot long dead whale.
"When you see something that big you kind of figure it's a whale," he added. "It was in not too good of shape. You could identify what kind of whale it is."
Donahue, who frequents the beach on the shores of the Northumberland Strait, believes the whale washed up on shore sometime the previous night.
"I would say it was 10,000 pounds anyway. They are going to have to bury it or something. It's a fairly big whale. It's no blue whale, but it is a pretty fair size fish."
Donahue said there were no marks on the whale, surmising that it could have been hit by a boat or may have died of natural causes.
"It's not the first time that whales have washed up on Roseville beach."
Sandra Keough, a provincial conservation officer, was en route late Tuesday afternoon to Roseville to inspect the remains.
Keough said based on the description she's received — specifically a white band on its fin — she thinks that it is a minke whale.
"The Department of Fisheries usually takes care of burial," she added. "If it is a fresh whale, and it is not too decomposed, the people from the (Atlantic) Vet College usually come down and determine the cause of death and take samples. We are not sure what stage it is at and how long it has been dead."
She said it is a "different time of year" for a minke whale to wash ashore.
Word of the find hasn't yet spread through the small West Prince community.
"I never told too many people yet," said Donahue. "It won't be too much of a pleasant sight in a couple of days."