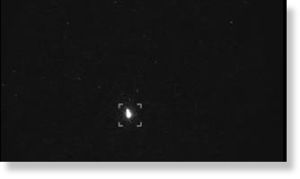 Video observed by the Nasa All Sky Fireball Network shows the Perseid fireball over the skies of New Mexico on the morning of August 12.
August 12 and 13 were the two days when the Perseid shower was set to peak, with a huge array of meteors visible. The meteor shower was not just visible in the US but across the world, including the UK, with stargzers in the Midlands and the North having the best view of the meteors as cloud cover meant visibility was limited across southern England and Scotland.
The Perseids this year coincided with a new moon - for the first time since 2007 - creating the ideal dark sky conditions.
The meteors reached their peak on Wednesday and Thursday night when over 100 per hour were produced.
The Perseids are pieces of Comet Swift-Tuttle and are active each year from around 17 July to 24 August.
For most of that period only a few meteors an hour are visible - in contrast to Wednesday night.
Professor Mark Bailey, director of Armagh Observatory in Northern Ireland, called the Perseids the "best and most reliable meteor showers of the year".
A burst of activity was forecast for shortly before 8pm on Wednesday, while it was still light, but the stars could be seen long after dark.
The ISS, which orbits earth every 90 minutes, was expected to be visible for four minutes from 10.28pm on Wednesday.