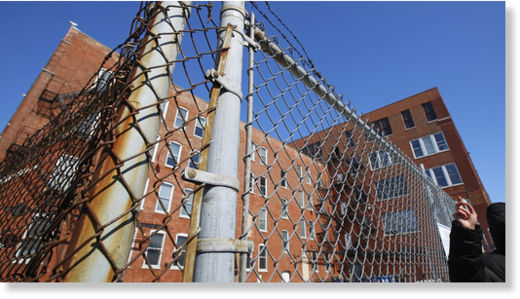 Newly revealed documents have shown that at least 3,500 Americans have been detained inside a Chicago police warehouse, 82 percent of whom were black. The site has been described by some as a secret interrogation facility.
The Guardian
reported in February that Chicago police were detaining people for days on end at a secret compound known as Homan Square - a facility which some lawyers have compared to the black sites operated by the CIA to interrogate terrorists.
Now, five months after its initial report, the media outlet has obtained records which provide more insight into Homan Square.
The information disclosed in the documents - obtained by the
Guardian
through the Freedom of Information Act - has raised concerns of civil rights violations.
Racial disparity, denial of lawyers
Despite Chicago's population being an almost equal divide of black and white, a whopping 82 percent of the people held at Homan Square were African-American. Only 8.5 percent were white.
Of those detainees, some were being held for major offenses such as murder. However, others were detained for minor crimes such as "drinking alcohol on the public way," traffic violations, public urination, and driving without a seatbelt.
But despite thousands of people being held at Homan Square, only three have any record of being visited by an attorney between September 3, 2004 and July 1, 2015. Two of those occurred on the same day in January 2013.
And while it is theoretically possible that detainees waived their right to counsel, it remains highly unlikely that approximately 3,500 people did so.
Following further questioning by representatives for the
Guardian
, the Chicago Police Department's attorneys said they cannot be sure that more lawyer visits did not occur, despite the fact that they were able to document only three.
But according to a 2012 Chicago police general order, police personnel are to "enter the visitor and/or attorney information in the section entitled 'Interview/Visitor Logs," which implies such data should be available if more lawyer visits occurred.
'Questionable circumstances'
Although the police maintain that nothing out of the ordinary is happening at Homan Square, those who have experienced the facility say it isn't as innocent as it makes itself out to be.
The Guardian
specifically noted specific cases which were considered "questionable."
One case mentions a 42-year-old civil rights activists who said he was abducted by masked officers. He claims to have been shackled and held on false charges with "no food, no water, no access to the outside world" while police continued their "covert operations."
Another instance describes a man who was promised a phone call when he reached the facility. However, that call never happened, and his requests for legal counsel were denied.
The man's wife said she did not speak to her husband for more than 24 hours because she could not locate him in the police system - and she never received a call from him. Instead, she briefly found out about his arrest via a text message while he sat in the back of a squad car, unaware of where he was being taken.
A similar case involves a young man being held at Homan Square for 14 hours without any public listing of his location. He was eventually sentenced to community service and probation.
Politician & police response
Following news of the report on Thursday, US Congressman Danny Davis said he will personally pursue a meeting with Police Superintendent Garry McCarthy in an attempt to learn the "rationale" for the methods used at Homan Square.
Davis' statement comes after February protests and calls for investigations from local politicians.
Those initial calls were met with opposition from Chicago Mayor Rahm Emanuel in February, who stated: "We follow all the rules," adding that the report about the facility was "not true."
The police also spoke out on March 1, stating that Homan Square merely housed undercover units, a property-reclamation area open to the public, and "several standard interview rooms."
Despite the controversy, police are still using Homan Square as a detention facility, and show no signs of ceasing operations there.
At least 118 people have been taken to the facility since February 24; the most recently confirmed detention took place on June 30.