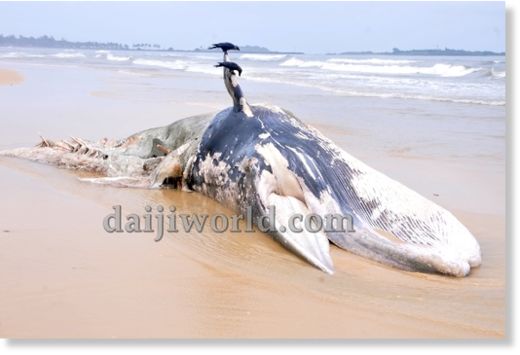 In the third such incident of its kind in the coastal districts in the last few days, a dead whale was found at Malpe beach here on Thursday August 6.
The whale was spotted by the locals early morning on Thursday.
The whale was in a decomposed state, with the tail separated.
Locals suspect that it might have been hit by a ship and died due to injuries.
The whale was a rare sight at Malpe beach and attracted a number of curious locals.
Udupi city municipality workers have buried the carcass near Malpe seashore.
This is the third case of a dead whale being found on the shores of the coastal districts of DK and Udupi in the last two weeks. On July 24, a whale washed ashore at Mogaveerapatna beach near Ullal, and then another at Tannirbavi in Mangaluru.
Sources from Central Marine Fisheries Research Institute, Mangaluru, told daijiworld that at least 6-7 such cases have been reported along the coast in recent days.
The source said that it was most probably a result of a usual phenomena called 'stranding' where whales or other marine species get caught in waves while moving in groups close to the shore. They then get stranded on the land and die due to dehydration or blocking of the blowhole. Once it is dead, the whale will sink for about three days, and then the carcass washes ashore.
"The injuries caused to the whales may not be from boats, as fishing in the sea is banned during monsoons. Also, whales are capable of recovering from minor injuries. We are in touch with states like Maharashtra and Gujarat to study these incidents," the source said.