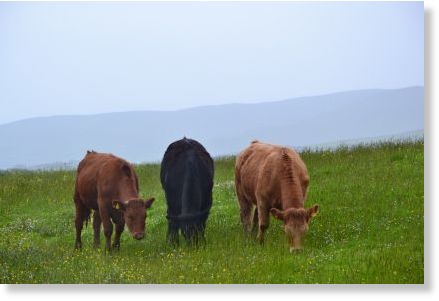 The chairman of the local National Farmers' Union (NFU) branch has echoed nationwide concerns about the impact poor weather is continuing to have on the agriculture industry.
Jim Nicolson said that this year's weather is "almost certainly the worst" he's experienced in Shetland in the last four decades, with high levels of rainfall and a cold climate affecting the growth of grass and crops.

His comments come after NFU president Allan Bowie said this week that there is "real concern" over how some farmers will cope in the coming months as a result of the poor weather.
Bowie made the remarks after visiting Caithness to see first-hand the impact the climate has had on Scotland's agriculture industry.
Nicolson, who chairs the Shetland NFU branch, said that there are
continuing "knock-on effects" that will run on through to winter as a result of adverse weather earlier in the year.
"For some, first cuts of silage was much poorer than might have been expected, and with people growing barley for example, it may be that the crops won't progress to a stage where they would be able to combine," he said.

"Straw is going to be in short supply and very expensive across Scotland this year. The cost of feeding is going to be significantly higher."
Nicolson also said the uncertain financial climate in Europe and its effect on the price of lamb, which counts the continent as one of its main markets, was a "real concern".
When asked whether he thinks the Scottish Government needs to be more aware of this year's rural farming and crofting issues, Nicolson said that he's not sure if they are taking the action that is needed.
"They certainly need to look at support and especially in some way reducing freight charges.
"There's been some reduction in charges for Orkney, but it needs to be extended to Shetland. But also they need to look at ways in which they can ensure that crofting and farming in Shetland continues to be viable."
On Monday, Bowie said: "
There is real concern about how many will manage during the coming months with poor silage quality for some who have cut.

"We know the poor weather is affecting livestock but also crops too, and to those farmers this is of equal concern."
The NFUS president said it was "crucial that the Scottish Government does everything in its powers to ensure that single farm payments are received by farmers on time in December, and there is no delay, otherwise it could cause further worry."