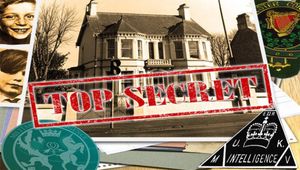 'Powerful people' behind sex ordeal of former Belfast boys home resident
A victim of child sex abuse at the Kincora boys home has revealed how he was also molested by "very powerful people" at a luxury apartment block and notorious guest house linked to a VIP paedophile ring.
Richard Kerr - a former resident at the east Belfast boys home - claimed young boys like himself were trafficked to England and abused by a well-organised ring in London.
An interview to be broadcast tonight supports allegations originally revealed in the
Belfast Telegraph
- that boys were taken from residential homes in Northern Ireland to be abused in England.
Channel 4 News has taken Mr Kerr there to see places named in recent claims about VIP sex abuse, such as London's Elm guest house and Dolphin Square, an apartment block close to Westminster and the headquarters of the intelligence agencies.
Mr Kerr's account links three of the most important alleged VIP paedophile ring locations: Kincora, the Elm - a regular paedophile meeting place that advertised the availability of boys - and Dolphin Square, which was then home to politicians, peers, civil servants and intelligence staff. Dolphin Square is now at the centre of a Metropolitan Police investigation into alleged abuse and murder.
Mr Kerr said he had been taken there as a teenager aged around 16. "I remember going in with this guy. He told me to sit down and relax. He had Waterford Crystal glasses and he wanted me to have a brandy and we had a small one. And then we had a sexual encounter in here," he said.
But his most violent experiences of abuse were in the Elm guest house. Standing outside it he said: "I was tied up here. I do remember that. I don't know why I was tied up, but I was tied up. With my hands behind my back. I do remember that.
"They took photographs. Other men were here. Other men came into the room. It wasn't just this one man. There were other men here."
When the Elm was raided in 1982, officers found whips, chains and ropes. The
Belfast Telegraph
revealed in February how the name 'Richard NI' appears in the guest house's visitors book.
That month, Mr Kerr visited Kincora for the first time in more than three decades, but found the trip to London more emotional.
"It was even more difficult than going back to Belfast and seeing Kincora," he said.
"I had been back to England before but I never went back to those places. It was almost as if I was a third person and all this had happened to someone else," Mr Kerr said.
He told C4 that
some of the abusers "were men who had control and power over others"
. He believes some were politicians although names will not be broadcast.
Asked why he considered this to be a paedophile ring, he replied: "Because of the people I was involved with. The boys were in groups. And the way they set it up, the clients and locations."
Mr Kerr is originally from the Shankill area but was taken into care at the age of five.
He was in Kincora from 1975, when he was 14, and remained in the control of sex gangs until he was 20 and living in England. There have been constant claims that
MI5 allowed the abuse to continue in order to blackmail politicians and Establishment figures
during the Troubles.