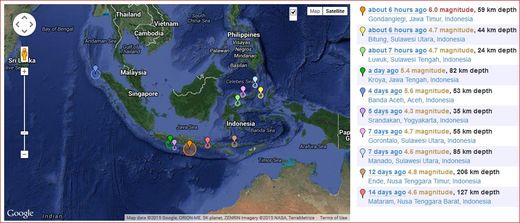 A strong 6.0-magnitude earthquake struck off the Indonesian island of Java today, the US Geological Survey reported, but local officials said there was no risk of a tsunami.
The quake struck at 2:05 pm local time (0705 GMT), 93 kilometres (57 miles) south of Krajan Tambakrejo village in east Java province at a depth of 59 kilometres, the USGS said.
Mochammad Riyadi, from the Indonesian meteorology, climatology and geophysics agency, said there were no reports of casualties or damages.
"
The quake epicentre was in the sea, but there's no risk of a tsunami. It's quite a distance from nearby cities
," he told AFP.
An AFP correspondent in Banyuwangi city in east Java said that mild shaking could be felt for about five seconds.
Indonesia sits on the Pacific "Ring of Fire" where tectonic plates collide, causing frequent seismic and volcanic activity.