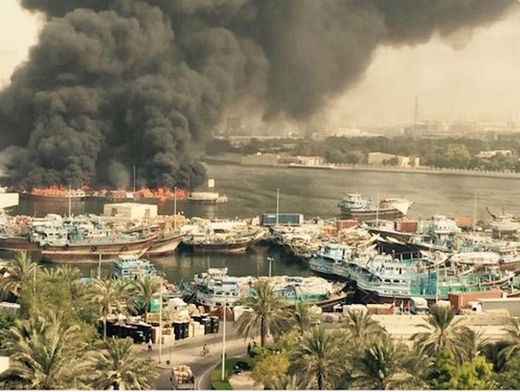 A number of vessels at UAE's Dubai Creek were on fire on Monday, sending huge clouds of black smoke into the air.
Fire crews are working at the scene, and social media users have posted numerous images and videos of the fire.
A massive fire broke out near Dubai's Al Maktoum Bridge on Monday afternoon.
The fire spread from one of the vessels at the dock, with thick smoke then engulfing nearby areas, including the Dubai Courts, the floating bridge and the Al Karama residential district, the
Khaleej Times
reported.
Teams from five fire stations are on the scene battling the blaze,
Gulf News
cited a Dubai Civil Defense spokesperson as saying.
"The operations room received a call about the fire at 3:04pm. As of now, there are two boats on fire, but we can't say anything about the damages as yet," he said, adding there was no news on whether people had been injured or killed.