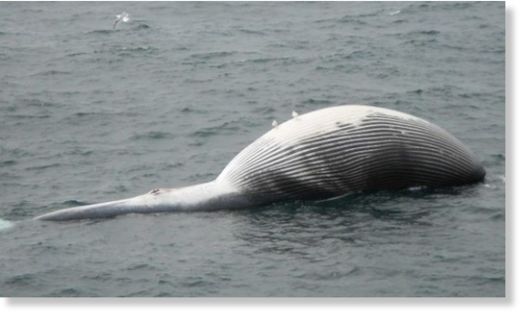 Several more whale carcasses have been found since the June announcement of nine dead fin whales discovered in Alaska waters, a UAF researcher told Channel 2 News Friday, though none appear to be newly deceased.
Kate Wynne, a Marine Mammal Specialist for the Alaska Sea Grant Marine Advisory Program, told Channel 2 News that since the June 18 announcement of the nine dead fin whales, four humpback whales and another fin whale have been found dead.
According to Wynne, the five whales appeared to have been dead for the same amount of time as the previously discovered whales.
Officials announced in June that nine fin whales had been discovered floating dead in areas between Kodiak and Unimak Pass, off the end of the Alaska Peninsula and Unimak Island.
After the first two whales were discovered in May, Wynne said it triggered a response from numerous agencies, including the Marine Mammal Stranding Network, Alaska Department of Environmental Conservation, NOAA, the U.S. Fish and Wildlife Service and Alaska Department of Fish and Game.
"The good news is that this has gotten a lot of us to talk to each other, and be alert," Wynne said.
One of the reasons researchers cites as a possible explanation for the deaths is that both species of whale found dead, eat similar foods and feed in similar patterns. Wynne thinks the whales may have consumed something toxic around the week of May 20, resulting in their deaths.
Tests on tissue from one of the whales have proven negative for domoic acid, a biotoxin, and results on two other tests, for Paralytic Shellfish Poisoning (PSP) and Cesium-137 radioactivity, are still pending.
Researchers were only able to get samples from one whale due to the level of decomposition to the whales' carcasses.
Despite the new carcasses, there don't appear to be any more recent whale deaths related to the incident, Wynne said.
New concerns were raised for Alaskan whales as the Navy conducted a training exercise in the Gulf of Alaska for two weeks June. Researchers are monitoring for dead whale sightings after the exercise. Sonobuoys were used as part of the exercise - a technology that affects deep diving whale species like beaked whales and sperm whales most, researchers say.
No reports of dead whales have been made since the Navy exercises and researchers continue to monitor the situation.