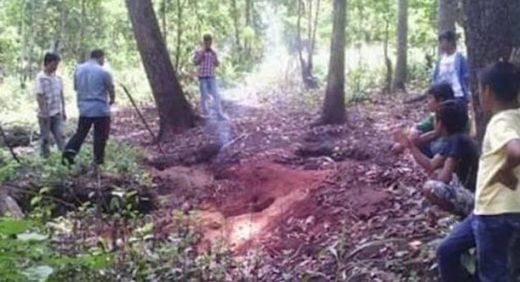 A continuous flow of smoke and ashes from a swamp at a place near Old Wahong village of Manipur's Ukhrul district has left villagers fearing of natural calamity in the form of volcanic eruption any time, a daily reported Tuesday.
Villagers said that smoke radius of about two feet along with ashes have been seen gushing out from the earth's surface at Shitru area, since last two weeks.Shitru is located a place border Manipur, Nagaland and Myanmar.
Villagers and onlookers feared volcanic eruption at the area in a short time.However, with majority of the villagers preoccupied with cultivation of seasonal crops, and coupled with incessant rainfall, they are yet to inform State authorities about the mysterious phenomenon till date. Yet, they are clueless and at the same time quite apprehensive in case the smokes and ashes turn out to be a prelude to a volcanic eruption.
It may be mentioned that in 2013, a mud volcano erupted at the neighbouring village of New Tusom due to the shifting of tectonic plates of India and Myanmar.