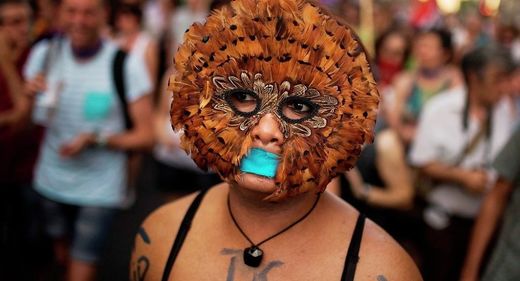 Protests are expected across Spain today as the government's controversial Citizen Safety Law comes into effect. While officials claim the measures will ensure demonstrations are safer, critics argue that the so-called 'gag law' will turn Spain into a police state, limiting the right to protest.
Prime Minister Mariano Rajoy's Citizen Safety Law has been one of the most hotly-debated pieces of Spanish legislation in recent times, with political opponents and civil rights activists arguing that it will simply act as a tool for the government to shut down public unrest.
Despite assertions from the ruling Popular Party (PP) that "demonstrations will be freer because they will be protected from violent elements," political opponents say it will turn Spain into a "police state" and have vowed to repeal the measures if they win this year's national elections.

Comment: There's more of that knee-jerk "freedom and democracy" nonsense.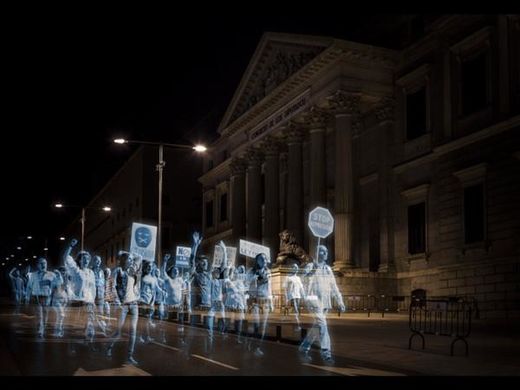 Central to the criticism is the power given to law enforcement officers to hand out administrative sanctions for those seen to be breaking demonstration laws. Previously the only people able to hand out these punishments were judges.
No Protesting Near Parliament
The discretionary power given to police is also another matter of serious concern among campaigners.
Under the new legislation, demonstrating — or as the government puts it, any "serious perturbation of citizen security" — near the national Congress or Senate, as well as regional assemblies, is considered to be an offense.
However, critics say that the ambiguity in the wording of the legislation will allow law enforcement officials to shut down protests at any time, with Greenpeace posing the question of "what constitutes perturbing citizen security?"
The group have raised concerns that the decision to break up demonstrations would be in the "arbitrary" hands of the police.
Ban on Recording Police Officers
Other measures which have irked critics is the introduction of
laws banning citizens from taking photographs or video footage of police officers while they are on duty.
This has been widely criticized by various groups who argue that recording of the actions of police officers has in the past uncovered incidents of police misconduct and officers using excessive force, which has also led to convictions against some of them.
Media organizations have also complained that first hand footage of certain protests can help bring about more transparency if serious incidents do take place.
Home Evictions
Following the bursting of Spain's housing bubble, which triggered the country's economic crisis and widespread unemployment, many Spaniards were evicted from their homes for failing to make rent or mortgage repayments.
The shocking extent of home evictions in the country was revealed in recent statistics, which showed that
95 families a day were evicted from their homes in Spain throughout 2014.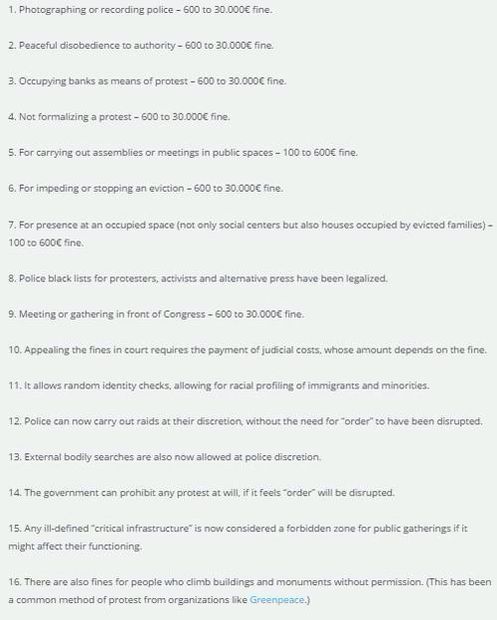 The issue has triggered widespread public activism from those arguing that they need more government support to stay in their homes
, while the matter has become one of the key issues for the country's political parties ahead of this year's election.
However, critics argue that the new Citizen Safety Law will make it an offence to try and stop a home eviction, with widespread criticism over the effects this may have on the elements of Spain's population under severe financial strain.
No Climbing, No Sitting
Other measures introduced by the government include a ban on people "climbing buildings or monuments without authorization when there is a clear risk of damage to persons or goods."
Meanwhile, civil liberties groups claim that peaceful resistance and 'sit-in' protests will also be targeted by police as part of the new legislation, with claims that officers will be given the power to fine people who refuse to break up demonstrations after they have been ordered to do so.
Under the new laws, minor fines can carry penalties ranging from $110 (€100) to $660 (€600), while very serious offences carry a penalty of up to $660,000 (€600,000).