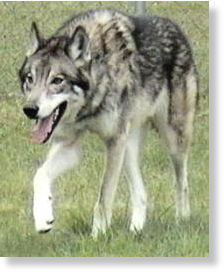 A wolf hybrid bit a 4-month-old boy in the abdomen Friday morning in eastern Culpeper County, requiring the infant be transported by helicopter for medical treatment.
The animal remained at large as of 8 p.m. Friday.
The reported incident occurred around 8:41 a.m. in the 30400 block of Eleys Ford Road in the Richardsville area, according to a sheriff's office news release.
After biting the baby, the wolf hybrid fled the scene, but then returned.
It ran away again after the baby's grandfather shot at it and the animal was last seen traveling toward an open field.
The dog is a three-year old black-and-gray wolf-Husky hybrid last seen wearing two collars: one orange and one black.
Law enforcement searched for the animal Friday with the use of police K9. Residents were asked to keep children and pets inside.
According to the school of veterinary medicine at the University of California, wolf-dog hybrids have been produced by crossing wolves, with wolf-like dog breeds such as Siberian husky, German shepherd, and Alaskan malamute. Occasionally natural wolf-dog hybrids occur, usually when a female dog in estrus strays and is mated by a wild male wolf, according to the university.
Most states in the US ban wolf-dog hybrids as pets, due to the unpredictable temperament of these canids, according to the university.
It has been estimated that there are upwards of 300,000 wolf-dog hybrids in the US.
Virginia code allows any locality to establish a local ordinance prohibiting the keeping of hybrid dogs. Such an ordinance is not in place in Culpeper County, according to sheriff's office spokeswoman Angela Deavers.
As of 8 p.m. Friday, the baby had undergone surgery and remained hospitalized, she said.