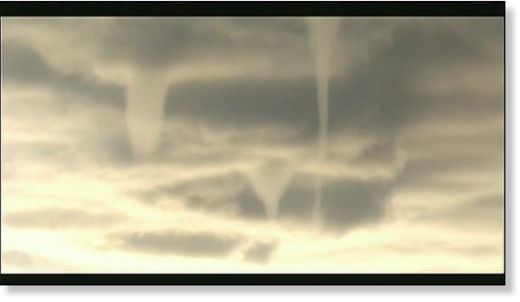 Up to four water spouts were spotted off the coast of Fort Lauderdale, Friday morning.
7Skyforce flew near the Commercial Boulevard Pier where at least three water spouts could be seen from a distance. The water spouts formed sometime after 7 a.m., and lasted for about half an hour.
7News viewer Seth Banks captured the incident on his cellphone, where one of the water spouts is seen hitting the shore. He said the water spout was approaching the nearby condos on the beach. "At first I saw people running out, so I thought there was nothing really happening," he said, "but actually when I checked, I saw a lot of sand and everything kicking up and the water spout forming in the water, so as it washed up I took out my phone and started to record from there."
The manager and an employee at Mulligan's Beach House were getting ready for the day when they also spotted the natural phenomenon. "We were setting up the tables and we saw the cloud come down," said Tom Harvey. "It was sunny on both sides, and there was one big cloud and under the cloud there was one and there was like three behind it."
Some passerby's were amused by the water spouts. "As you looked into the water you could see like a vortex spinning where it was actually touching down in the water," said Leslie Weiss. "It was pretty neat." However, mother nature became a concern for some airplanes in the area.
"We alerted Fort Lauderdale International," said 7News traffic reporter Steven Jay Grey. "We saw some airplanes coming very close to the water spouts, and we made sure that they let all the departing flights from Fort Lauderdale know that they need to stay clear of these water spouts."
A similar situation happened on Memorial Day, when a bounce house was tossed in the air by a water spout making landfall, also in Fort Lauderdale Beach. Three kids were injured in that incident.