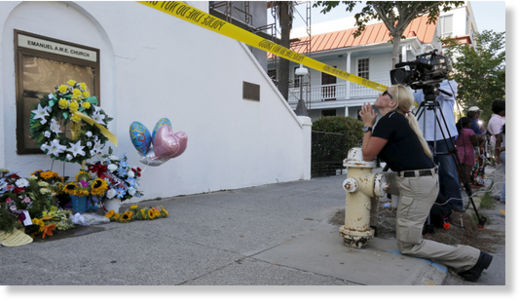 Dylann Roof has been charged with nine counts of murder and possession of a firearm during the commission of a violent crime, according to police. He confessed to killing nine people at a Charleston church on Friday, according to officials cited by CNN.
Police made the announcement in a Friday Twitter post, adding that Roof's bond hearing will take place at 2 p.m. local time on Friday.
Roof reportedly said he wanted to start a race war.
The 21-year-old was arrested by authorities in Shelby, North Carolina, on Thursday, following the tragic shooting which left six women and three men dead.
The .45-caliber handgun used in the attack was apparently purchased by Roof in Charleston in April. Previous reports stated that the gun was a birthday gift from his father. However, his grandfather stated that Roof was merely given "birthday money," and that his family didn't know what he used it for.
It was Roof's own sister, Amber, who called authorities after seeing the surveillance photo of her brother on TV,
The Washington Post
reported, citing law enforcement officials who spoke on condition of anonymity.
South Carolina Governor Nikki Haley told NBC Charleston that Roof should get the death penalty.
The "race war" comment comes after Dalton Tyler, who said he has known Roof for seven months to a year, told ABC News that Roof was "big into segregation."
"I think he wanted something big like Trayvon Martin,"Tyler said."He wanted to make something spark up the race war again."
Hundreds in Charleston attended a vigil for the nine victims on Thursday, packing the church's pews and the street outside.
Roof left White Knoll High School in the suburbs of Columbia, South Carolina, in ninth grade. He finished out the year at another nearby high school, but didn't return after that year.
These are not Roof's first criminal charges. The 21-year-old drew the attention of police at a local mall in February, walking into stores wearing all black and asking workers "out of the ordinary questions" such as how many people worked at the shops, and what time they left.
The officer who questioned Roof at that time found strips of Suboxone, a drug for treating opiate addiction, in his jacket pocket. He was charged with felony drug possession and banned from the mall.