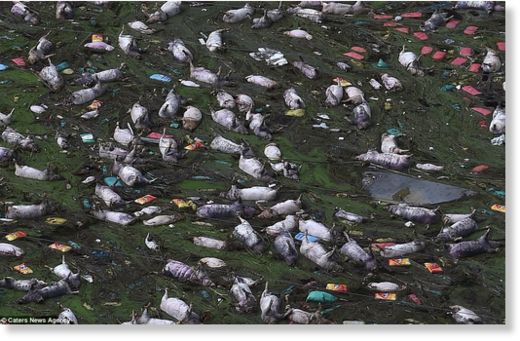 Thousands of pig carcasses have been washed up on farmland in southern China after days of continuous and torrential rain sparked devastating flash floods.
Health and safety authorities in south China's Guangxi region are removing and sterilizing an estimated 16,000 pig carcasses after filthy, algae-filled floodwater swamped the large farm, drowning most of its animal inhabitants, according to
People's Daily
Online.
The pig farm is situated in a valley in the autonomous county of Dahua Yao walled by steep mountains on either side which caused the water levels to rise rapidly following the relentless downpour.
Pictures of the remote valley with the farm buildings flooded have been quickly shared on Chinese social media showing thousands of pig carcasses floating among the rubbish and debris.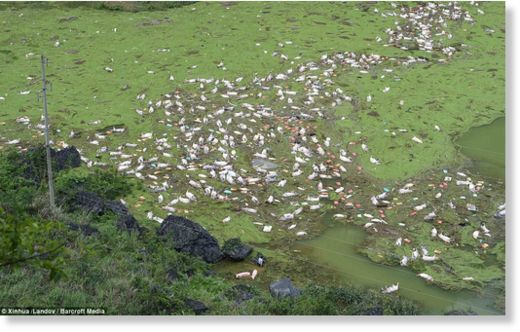 Weather experts said almost 1.5 inches (400mm) of rain fell in just 20 hours, causing flash floods throughout the region.
In some cases farmers had managed to get their livestock to safety but at the pig farm in Dahua Yao the farm staff were unable to evacuate pigs from their pens before the floodwaters struck.
Worker Yuan Liu said:
'The waters just rose from nothing to over a metre in a space of minutes and there was nothing we could do. In the end 16,000 animals were washed away.'
Although pigs are generally good swimmers, trapped in pens there was nothing they could do to escape the floodwaters and were drowned as a result with many of the carcasses then being washed out of the pens and into the valley.
Only when the rain started to die down did the true extent of the tragedy emerge and pig carcasses were seen floating throughout the area, with health and safety officials now faced with the task of removing them and ensuring that they are sterilised and buried.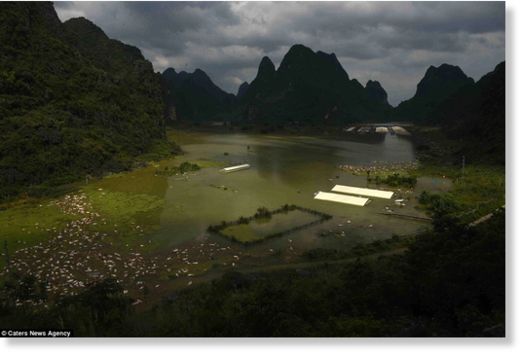 However Chinese internet users have also raised concerns of the pigs eventually ending up in their local markets or at fast food restaurants - something officials will be keen to avoid.
Officials have insisted that all the carcasses will be disposed of, and promised that they will not end up in the human food chain.
Continuing downpours have triggered flood hitting 40 counties in 10 cities of Guangxi, leaving three dead and five others missing. In total 788,900 people and 49,000 hectares of crops have been affected.