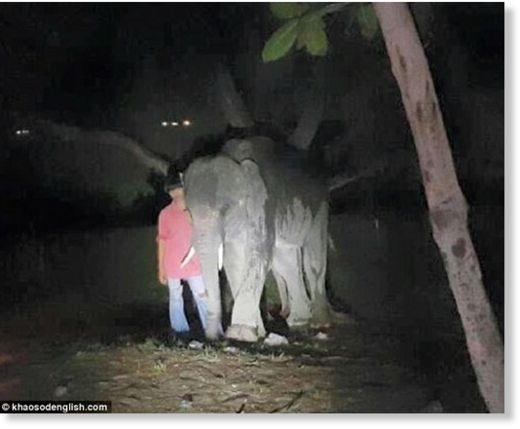 A man died in hospital after being gored through the chest by an elephant that was being used to beg for money on a beach in eastern Thailand.
Weeranat Yoodee succumbed to his brutal injuries yesterday following the Monday night attack as he ate dinner with friends at a seaside restaurant in the tourist hub of Rayong, south of Bangkok.
The 28-year-old was speared by the four-ton animal's tusk after it was spooked by nearby commotion - thought to be loud music and passing traffic.
In doing so, it rammed Yoodee and charged into the telecoms worker's friend, Thongpoon Boonraksatrakul - leaving him with severe bruising to his chest and rib cage.
Police rushed to the scene in Tambon Noen Phra, with the two men taken to Krungthep Rayong Hospital.
Yoodee died on Tuesday.
The elephant's keeper - known as a mahout - was identified locally as Surin native Wittawat Aundoungdee, 21. He's been charged with violating animal welfare legislation, recklessness causing death and injury, transporting animals without permission, and using animals in inappropriate work.
Aundoungdee is said to have told reporters that he brought two elephants from Buriram province in north eastern Thailand four days ago, adding that he was 'confused' to see one of them attack.
He told Thai news website
Khaosod
: 'I think it might have been startled by car headlights and engine sounds.'
Witnesses claim the five-year-old elephant was walked along the street with Aundoungdee urging diners to buy sugar canes for the elephant.
The two victims were eating local favourite hotpot with 32-year-old Kusuma Laopan when the terrifying incident took place.
She said: 'We ran for our lives.
'Luckily, the mahout stepped in and stopped the elephant, so it stopped harming other people. He then led the elephants away to the other side of the road.'
The maximum penalty for negligence causing death in Thailand is 10 years in jail and a fine of 20,000 baht (£380).
Domesticated elephants in Thailand are believed to outnumber those in the wild by almost two to one - despite the capturing of wild elephants for entertainment purposes being banned.
They are prohibited from entering cities, but sightings of elephants being used as a tool for begging are not uncommon, with hundreds routinely spotted in urban areas by tourists.
The practice has been widely condemned by animal rights activists.
Under Thailand's Animal Cruelty Prevention Act, those caught 'causing unnecessary cruelty' to animals face a 40,000 baht (£750) fine and two years in prison.