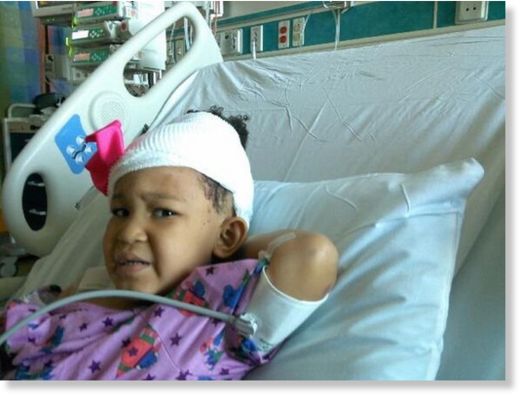 A Phoenix girl is recovering after being mauled by the family dog and her father is facing a list of charges for shooting the animal after the attack.
Nevaldo "Chris" Ford said his 4-year-old was in the backyard playing with family when he heard screaming. He ran outside to find his dog, Toben, biting his daughter's head.
Ford said he wrestled the dog off the girl, threw the animal to the ground and ran his daughter into the house.
While family tended to the little girl and waited for an ambulance, Ford went back into the yard with a rifle.
"I didn't even know him at that point; he wasn't the dog I raised. " Ford said, "I just knew he was going to attack someone else."
He says the dog didn't back down until it saw the rifle and instinctively ran into the kennel. Ford says he put the gun against the kennel and fired four shots directly into the cage, killing the dog.
According to the police report, Ford's mother claims the dog had a history of aggressive behavior and didn't want it around the children. She told police she told Ford to get rid of the dog.
Ford disputes the allegation and says the dog was a puppy that would tear up shoes and household items but was never a danger to people.
He was booked into jail under suspicion of animal cruelty, endangerment, and possession of a weapon by a prohibited person, assault by vicious animal and discharging a firearm within city limits.
Because he has a criminal record, Ford isn't allowed to have a gun. He admits that was wrong but argues he purposely shot into the kennel to protect others from being attacked. And he claims animal control would have put the animal down eventually.
"No matter who shows up the ending result is still gonna be this. A dog attacks a child, you think he's gonna live?" he asked.
Still, the decision to shoot his own dog was not an easy one.
"I had to choose between two family members and one of them could possibly attack someone else. I did what had to be done," he said.
His daughter is hospitalized in the intensive care unit recovering from surgery. He says she had extensive injuries, but is expected to recover. Documents state the girl may have permanent damage.
Maricopa County Animal Care and Control said in general, if you are faced with a dog attack do your best to get the victim and yourself to safety and corral the animal only if you can do so safely. Then call 911, alert police to the dog's behavior and let them decide how to proceed.
Animal Control says you will not be held liable for an attack on an officer as long as you have properly informed them of the situation.