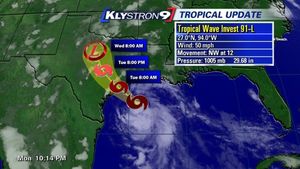 Tropical Storm Bill hurtled toward the Texas coast from the Gulf of Mexico early on Tuesday with heavy rains and strong winds, the National Weather Service said, weeks after floods killed about 30 people in the state.
Flash flood watches were in effect for central Texas and the Houston area, regions where floods last month swallowed thousands of vehicles and damaged homes.
The storm was projected to hit the coast at Matagorda Bay and churn through central Texas toward Austin.
Heavy rain had already drenched parts of Texas over the weekend, pushing already high rivers closer to overflowing their banks.
Around Houston, the fourth-largest U.S. city, 10 inches (25.4 cm) or more of rain could fall by Thursday, and the M.D. Anderson Cancer Center, a world-renowned cancer treatment facility, said it was postponing surgeries.
Officials also imposed
voluntary evacuations for some low-lying areas south of Houston.
Traffic in the Houston Ship Channel, the biggest U.S. petrochemical port, was stopped on Monday to protect vessels from rough seas
, officials said.
Flooding could snarl work in Texas oilfields. Also, more than 45 percent of U.S. refining capacity and half of U.S. natural gas processing capacity is located along the U.S. Gulf Coast.
Output from oil platforms has not been affected in the U.S. Gulf, which pumps about a fifth of all domestic crude. But several firms, including Chevron Corp and Royal Dutch Shell, evacuated non-essential offshore workers.
Onshore, LyondellBasell said it was deploying sandbags at its refining and chemical facilities, and Shell said only workers essential to fuel production would work Tuesday.
Bill is the second named tropical storm of the 2015 U.S. Atlantic season after Ana, the U.S. National Hurricane Center said.