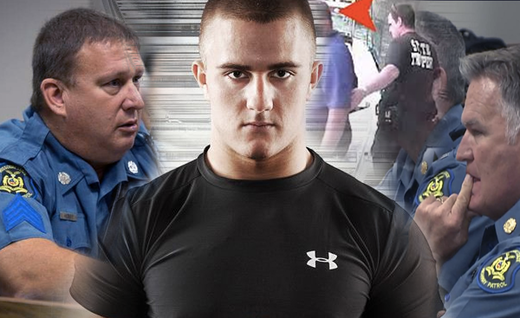 The Missouri Highway Patrol trooper who questioned the cops who killed Brandon Ellingson has just been slapped with a demotion. Sgt. Randy Henry refused to remain silent in the aftermath of Ellingson's death. He spoke out against the agency of the young Iowa man and has been disciplined for doing what everyone says "good cops" are supposed to do.
Now, Sgt. Randy Henry has been demoted to the status of corporal. He has further been moved from Lake of the Ozarks where he has been on patrol for almost thirty years. His superiors have transferred him away from the crime scene, to Truman Lake. Henry's attorney, Chet Pleban of St. Louis, referred to his client as a whistleblower.
In the days after Brandon Ellingson's death, Henry told investigators what Trooper Anthony Piercy told him the night a handcuffed Ellingson died. The college student was in Piercy's custody.
But Piercy's account later, as well as his testimony to a coroner's inquest, was different.
Henry also testified
in front of a legislative committee about minimal trooper training after the Water Patrol merged into the Highway Patrol in 2011.
"Randy Henry doesn't have a horse in the race," Pleban told The Star. "He's not on one side or the other. He has testimony to give that's material. The truth is the truth. He went to his superiors to say, 'This is wrong. This is what happened.' And they blew him off. So now here we are."
The reason for the discipline has not been disclosed. A patrol spokesman said he could not comment.
"As with any personnel issue with the Highway Patrol, I'm not at liberty to be able to discuss that," said Lt. Paul Reinsch.
Earlier this week, Henry appealed the discipline and transfer from Lake of the Ozarks.
"You're going to make that man move from his home, where he's lived for 19 years, and force him to move to Truman Lake?" Pleban said. "And you're going to say that's not retaliation, malicious and vindictive?"
Ellingson drowned May 31, 2014, while in the custody of Piercy, a veteran road trooper. Jurors at the September coroner's inquest found the death to be accidental, and special prosecutor Amanda Grellner
announced days later
that she would not file criminal charges against Piercy, who had been on the Highway Patrol for 18 years.

Comment: People are killed while in police custody all the time and yet those responsible are rarely held to account. Notice that in this case, the prosecutor only needed a few days to decide that Piercy was innocent of any wrong-doing, even when it's been shown that he lied about the circumstances of Ellingson's death.


Since Ellingson's death, the patrol's marine operations — especially along Missouri's most popular waterways — have been under scrutiny. A
special House Committee
met for several months last year and in January
released a report
calling on the state to correct flaws created by the 2011 merger of the Missouri Water Patrol into the Highway Patrol.
Among the changes it called for: an overhaul in training troopers for the water and recruitment of specialized officers to patrol by boat.
The committee
also called for an update from the patrol in six months and a thorough inspection of changes in two years.
Henry told legislators that road troopers who helped out on the lake part time received four weeks of classroom training.
"The field training of the (part-time officers) was very, very minimal," he said.
Days after Ellingson's death,
Henry was interviewed
by patrol investigators looking into the incident. At one point during the interview, a recording shows,
Henry had questioned whether the highest degree of care was taken with Ellingson that day. When he mentioned a state law pertaining to that, his sentence was cut off and

one investigator insisted the recorder be turned off.
Earlier this month, Henry was deposed in the civil suit the Ellingson family has filed against the patrol, Piercy and top commanders. In a letter to the patrol superintendent, Col. Bret Johnson, Pleban stated: "You might want to educate yourself by requesting a copy of the transcript of Sgt. Henry's deposition so that you can fully comprehend his status as a whistle blower."
Pleban said Thursday that the patrol set out to retaliate against Henry.
In recent months, the patrol sent Henry to a mental-health provider for an examination, according to a letter Pleban sent to patrol commanders. No cause for concern was noted, the attorney said.
Henry was sent for a second exam. Again, no concern.
"Ultimately, the mental-health provider warned that because she found nothing wrong with Sgt. Henry, it would be unethical for her to see him a third time at the insistence of the patrol," Pleban wrote to Johnson. "When the mental health route failed, a Professional Standards investigation surfaced."
The nature of the complaint or who filed it has not been disclosed, but Pleban said it was related to the Ellingson case.
According to a letter Pleban wrote the former patrol superintendent, Col. Ron Replogle — who has retired — Henry was accused of disseminating confidential information.
On May 31, 2014, Piercy was helping patrol the lake during peak water season. He pulled over the college student on suspicion of boating while intoxicated.
The trooper first handcuffed Ellingson's wrists behind his back and then, according to witnesses, pulled an already buckled life vest, with armholes, over his head and upper torso. The vest, which wasn't properly secured, came off shortly after Ellingson entered the water during transport to a zone office for a breathalyzer test.
In an extensive investigation into Ellingson's death,
The Star discovered
that
Piercy had just two days of field training
before he was released to patrol on the water alone. The trooper told jurors in the coroner's inquest that he hadn't received the proper training to handle what happened the day Ellingson drowned.
Piercy's boat was traveling between 39.1 and 43.7 mph in the moments before Ellingson entered the water. During the investigation, the patrol re-created the speed of Piercy's boat that day.
The Star
obtained that video
showing a patrol investigator needed to hold onto a pole as the boat reached speeds of 38 to 40 mph.
Ellingson, Brandon's father, has said for the past year that Piercy should be held accountable for what happened to his son. A special prosecutor, who took on the case earlier this year after the previous prosecutor recused herself, is still reviewing the case, and so is the U.S. Department of Justice.
Contacted Thursday, Craig Ellingson said Henry's discipline is wrong.
"That's pretty pathetic," Craig Ellingson said. "It's retaliation. They shouldn't be doing that."
People are coming together to demand justice for Brandon. They are calling on the Department of Justice hold the cops who were responsible for Brandon's death accountable for their reckless actions. Please join Brandon's mother in demanding the Department of Justice investigate the Missouri Highway Patrol, specifically in regards to the death investigation of Brandon Ellingson, while in their custody.
Sign her petition here
and SPREAD THE WORD!