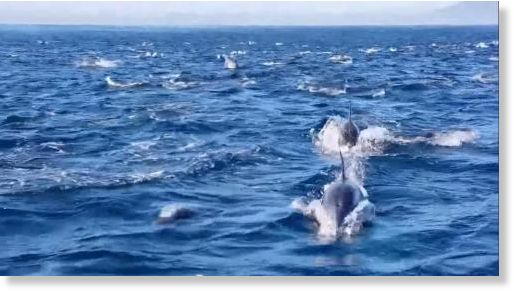 A South African man boating off the coast of Cape Town captured footage of hundreds of dolphins chasing bait fish around his vessel.
Robbie Ragless, who shared the video on YouTube, said he was on a fishing trip with a group of people Friday when their boat was surrounded by the "dolphin frenzy."
"An incredible experience getting so close to dolphins chasing bait fish just off Robben Island, Cape Town," Ragless said in the video's description.
Ragless told Eyewitness News the dolphins showed up around midday.
"We just saw the frenzy on the horizon and didn't know it was coming straight for us and caught ourselves right in the middle of it, which was quite cool," he said.
He said it was difficult to count the dolphins.
"I didn't even know -- we thought there were maybe a thousand, but there could have been more of them," he said.