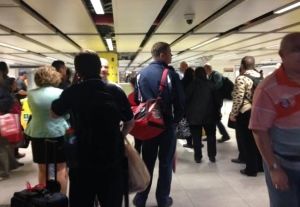 Toronto Transit Commission officials say a
power failure the night before caused an "unacceptable" communications issue that left the city's entire subway system at a standstill
.
Between 125,000 and 150,000 people were affected by the "communication issues" during morning rush hour, officials estimated.
TTC Chair Josh Colle called the shutdown "unacceptable."
"The total shutdown of our subway system this morning, for approximately 90 minutes, was extremely frustrating for everyone," he told reporters on Monday.
"It is deeply troubling that our system can experience such a major technical failure. This needs to be dealt with immediately."
On Monday afternoon, the TTC said in a statement that a
power outage at the Hillcrest complex was to blame for the issues
.
The complex, which houses the control centre, experienced a power failure on Sunday evening that activated the uninterrupted power supply.
A failure in the system caused its battery to drain, keeping power from getting to the communications system. Crews are still investigating why the uninterrupted power supply system failed.
"Once that is determined, the TTC can implement remedies, as required, to prevent a recurrence."
TTC CEO Andy Byford spoke with reporters Monday afternoon, saying he is "very disappointed with what happened this morning."
"Our reputation took a big hit this morning," Byford added. "We intend to get to the absolute bottom of this."
Starting at 6:20 a.m., service was suspended on the Yonge-University-Spadina, Bloor-Danforth, Sheppard and Scarborough RT lines due to issues with the TTC's radio system, officials said.
As a result, train operators could not communicate with the TTC's control room.
"We have no other way of communicating," TTC spokesperson Brad Ross said Monday. "If we can't communicate with our subway trains, we can't run service."
Ross said the TTC's telephone and Internet service also failed at the control centre.
At the height of the outage, taxi companies took to Twitter to say they were sending all available cars to the crowded stations.
"Wait times are significantly longer than normal due to all subway lines being down," Beck Taxi tweeted.
Ride-share service Uber, which bases fares on a sliding scale, charged customers four times the average rate during the outage, CTV Toronto's Heather Wright reported. BNN's Michael Kane reported fares were up "five-fold" during rush hour.
"During times of peak demand -- when there are not enough drivers on the system -- fares increase so as to incentivize more drivers to come onto the platform," the company said in a statement.