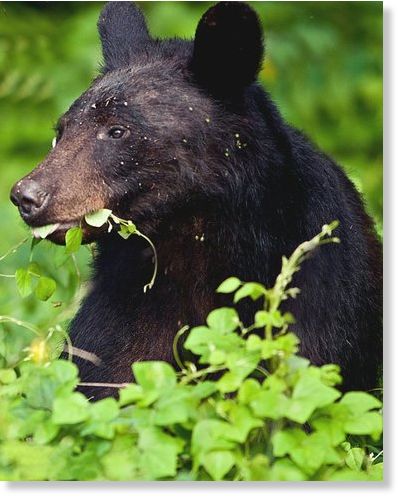 Officials with the Great Smoky Mountains National Park have closed several trails and backcountry campsites in the Hazel Creek section of the park because of a bear attack Saturday night.
According to the park,
a 16-year-old Athens, Ohio, boy was pulled from his hammock at about 10:30 p.m. by a bear and injured
at backcountry campsite 84, which is 4.5 miles from the Fontana Lake shoreline near Hazel Creek in North Carolina. The father was able to drive the bear off from the area, officials said.
Immediately following the incident, the boy and his father hiked to the lakeshore where they were transported across the lake to Cable Cove boat dock by campers at backcountry campsite 86 who had a boat. Graham County Rescue EMS transported them to a landing zone where the injured party was flown by Mountain Area Medical Airlift to Mission Hospital in Asheville at approximately 3 a.m. Sunday.
According to park officials, the boy received multiple injuries, including lacerations to the head. He remained conscious throughout the incident and was listed in stable condition Sunday afternoon.
Officials said park rangers and wildlife biologists were responding to the backcountry campsite area on Sunday to investigate the scene and to clear the area of other campers.
As a result of the aggressive bear, the following trails have been closed until further notice: Hazel Creek Trail, Jenkins Ridge Trail, Bone Valley Trail and Cold Spring Gap Trail. Also closed are backcountry campsites 82, 83, 84, 85, 86, and 88.
Rangers are going through the affected trails and campgrounds to find and alert hikers of the incident.
The Derrick Knob shelter along the Appalachian Trail has also been closed to camping until officials can determine whether recent bear activity at the shelter may also be related to the same bear.
"While incidents with bears are rare, we ask park visitors to take necessary precautions while hiking in bear country and comply with all backcountry closures," said park Superintendent Cassius Cash. "The safety of our visitors is our No. 1 priority."
Officials said the father and son, whose names were not released, were on a multiday backpacking trip in the Smokies. Both campers were sleeping in hammocks approximately 10 feet apart and had all equipment, food, and packs properly stored on aerial food storage cables.
Though the investigation into the attack is ongoing, it appears the campers followed all safety recommendations, said Dana Soehn, spokeswoman for the Great Smoky Mountains National Park.
Because the campground where the bear attack occurred is isolated and far away from most trails, there is little threat to hikers, she said.
"I don't think there's any widespread need for closures or alarms," Soehn said.
Bear attacks of this nature are extremely rare, Soehn said. The last time a camper was pulled from their hammock by a bear was in 2001 and the animal was chased off with a broom.
In May, park officials temporarily closed the Mt. LeConte shelter and trails to Cliff Tops after a black bear aggressively followed a park ranger for about a third of a mile. The bear was later captured and euthanized by park rangers.
So far this year, the number of responses to bears in the park is consistent with previous years, Soehn said.
"The number of bears to capture, relocate, or handle (this year) is only nine," Soehn said. "We are still working with a relatively small number of bears."
The Smokies covers some 800 square miles and is home to an estimated 1,600 black bears. The months of May and June typically bring an increase in bear activity as the animals look for food. Interactions between park visitors and bears usually decline in July as the bears begin feeding on ripe berries. Contact between humans and bears usually picks up again in August, then declines in September as the bears begin feeding on ripe acorns.