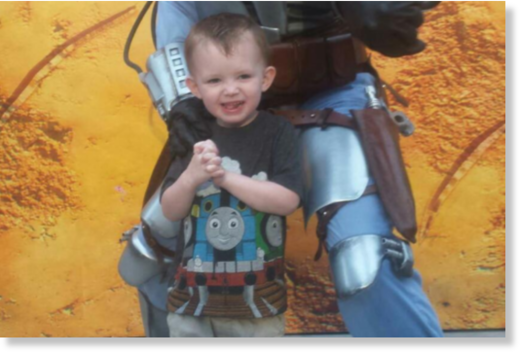 A four year old Lithia boy is facing a long road to recovery after being viciously attacked by a pit bull.
It happened earlier this week at the boys home.
"He was down on his stomach and his legs were curled up in a ball and the dog was on the back of his head," said Andrew Edwards, Hunters Father.
A Horrifying site for any parent, on Tuesday 4 year old Hunter Edwards was rushed to the hospital bleeding from the head.
"He never really got me that good, I was just trying to fight him off," said Edwards, pointing to his bandaged arm.
Disabled Army veteran Andrew Edwards says on that day his son hunter followed him to the back yard. Edwards was looking for a tool in his shed and hunter decided to pay the family dog Abe a visit. Thats when the dog got a little excited and jumped on the little boy.
"He pushed the dog back down off of him and I think the dog took it as rough playing," said Edwards. "Thats when he maybe tried to nip at him but got blood and once he got blood, that when he started mauling him."
Edwards would fight the dog off but Hunter would suffer extensive injuries to his face and head.
"It fractured outside of his orbital socket, it fractured his cheekbone, and then fractured his upper jaw thats connected to the cheekbone right there," said the former marine holding back tears.
Abe belonged to hunters great grandfather who also lived at the home. Hillsborough county animal control has since euthanized the animal.
But for the Edwards family the long road to recovery is just beginning. They've since set up a go fund me page to help pay for hunters mounting medical bills.
The family tells ABC Action News, hunter and their two other children had recently been dropped from medicaid and were not insured when this accident happened, He's had three surgeries so far and will need more. Anyone who would like to help with hunters medical bills can donate through the link below.
www.gofundme.com/wc948g6p