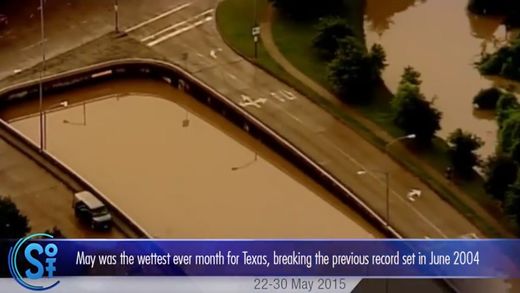 Winter in the northern hemisphere officially ended in March, and yet May 2015 saw heavy snowfalls in parts of Norway, Russia, China and the US. Europe recorded its highest ever (official) May
and
June temperature - 44°C in Spain - during a brief heatwave, before the mercury plunged to as low as 8°C the following week. Like much of Siberia, northern China went from warm, dry weather - including sandstorms and wildfires - in April, to blizzards by the end of May, while spring snowfall and cold temperature records were broken in Russia.
There were at least four major tornado outbreaks in the US last month, generating some 460 tornado reports. Will the US break its 2011 record for highest number of tornadoes in one year? With the storms came hail, rain, and snow - lots of it. Texas was inundated with record-breaking rainfall that bought its 3-year-long drought to a chaotic end. There were also destructive tornadoes in New Zealand, Mexico, and Germany, which saw
two
tornado outbreaks.
California's record-breaking drought continues, but Los Angeles saw its daily rainfall record smashed in May. Other parts of the US under water were Louisiana, Oklahoma and Alaska, which saw its 'worst flooding in decades', in part due to yet another bizarre spring heatwave. An 'apocalyptic' storm in Moscow flooded streets, while hailstorms turned streets into rivers of ice in Spain, Mexico, and Turkey, where cars were washed away in the coastal city of Izmir. Several huge sinkholes opened up - in the US, Turkey, the Canary Islands and Russia - swallowing gardens, street intersections, golf greens, and cars.
Another deadly earthquake - officially considered an aftershock - rocked Nepal on May 12th, just three weeks after the country was flattened by its worst seismic event in 80 years. Wolf Volcano in the Galapagos erupted for the first time in decades, followed a couple of days later by an explosive eruption of Mount Shindake in southern Japan. Next up was a magnitude 8.5 earthquake off the Japanese coast, the country's strongest since
that
magnitude 9.0 earthquake in March 2011.
Some are asking 'when, if ever, will the climate change'? Our answer to that is: open your eyes; it's changing NOW!
Watch it on
Sott.net's Vimeo Channel
:
Music used: 'Escape from the Temple' by Per Kiilstofte. Licensed under Creative Commons Attribution 4.0 International
To understand what's going on, check out our book explaining how all these events are part of a natural climate shift, and why it's taking place now:
Earth Changes and the Human-Cosmic Connection
.
Check out previous installments in this series - now translated into multiple languages - and more videos from SOTT Media
here
or
here
.
You can help us chronicle the Signs of the Times by sending video suggestions to sott@sott.net