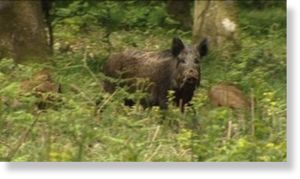 Panic gripped Pandari Nomhala village, under Hafizganj police station, on Friday when a
wild boar entered into the house of a local farmer and injured six people. Four people, who were severely injured, have been admitted to a private hospital.
While the animal was chased away by the villagers, forest department has ordered an inquiry into the incident.
On Friday, the boar entered into the house of Janki Prasad, a local farmer, in Pandari Nomhala village.
When Prasad tried to scare the animal away with a bamboo stick, it pounced on the farmer and ate his leg.

When his son Manoj intervened, the animal injured him too.
Listening to the cries, the villagers gathered outside the house and surrounded the animal. The animal got scared and suddenly jumped from the boundary wall into another house. As the animal tried to flee, it injured the people who came in his way. The wild boar attacked villagers, Ram Moorti, Mangal Sen, Vinod Prasad and Tika Ram.
"The angry villagers scared the animal by attacking him. The wild boar then went to another village. The villagers did not kill the animal," said Neelmani, forest ranger, Nawabganj. He added, "Four villagers were admitted to private hospital for treatment and the condition of Janki Prasad is serious."
Divisional forest officer, Dharam Singh said, "I have ordered an inquiry in to the incident. The sub-divisional forest officer has been asked to submit the report soon."