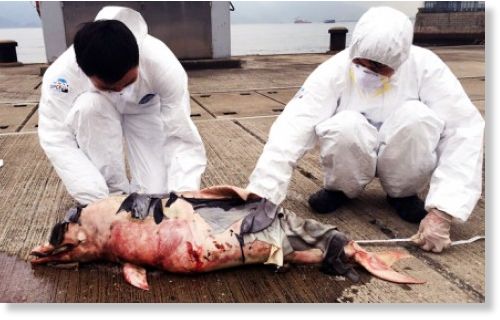 The body of a Chinese white dolphin was found off Sham Tseng on Sunday, the sixth of the species found dead in Hong Kong waters so far this year.
The find comes amid growing concern over the future of the 60-strong pod of dolphins that make the city's waters their home as their territory comes under increased pressure from land reclamation.
The Ocean Park Conservation Foundation said the male dolphin had a fracture to its tailfin, an injury the conservation group described as uncommon.
The body of the dolphin, which was about 1.2 metres long and weighed 10.5kg, was severely decomposed.
In January, the case of a severely injured dolphin captured the city. The male dolphin, given the name Hope, suffered severe cuts to its tail and back, believed to have been caused by a boat propeller. The worst cut penetrated its spinal column, exposing vertebrae. It had also suffered a broken rib and was unable to hunt.
After 18 days and five unsuccessful attempts, the dolphin was captured and taken to Ocean Park for treatment. But its condition worsened and it was put to sleep in February.
The dolphins are more commonly found off the coast of Lantau Island, an area affected by reclamation work for the Hong Kong-Macau-Zhuhai bridge and, imminently, by the construction of a third airport runway.
The Agriculture, Fisheries and Conservation Department last year announced plans for two marine parks off Lantau that would help conserve the habitat of the dolphin and the city's finless porpoise population in the midst of the debate about the runway.