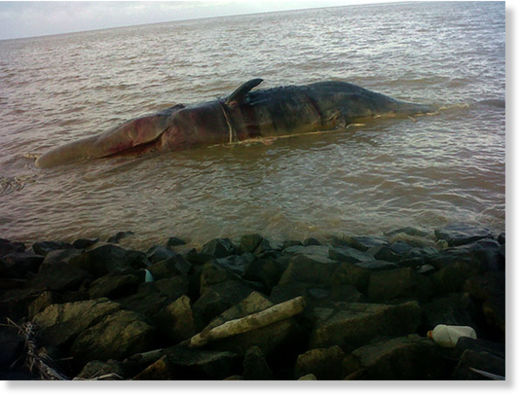 Residents of Maria's Lodge, Essequibo Coast and its environs are being plagued by an obnoxious odour after a whale washed up on the beach at around 2pm yesterday.
According to information, the Sanitary Department on the Essequibo Coast was contacted and promised to look into the matter as soon as possible.
Stabroek News
was told that upon hearing of the whale, residents flocked the area to get a glimpse of the dead mammal.
"If you see the traffic here this afternoon. Everybody wanted to see the whale. Parents were carrying their children and everyone wanted to say that they see a whale in their lifetime even when it is dead and stinking. The whale is about 50 feet long. (Yesterday) afternoon as the tide was going down, we realize it was there. It smell really bad and poses a risk to residents. We are hoping that it is removed soon," one resident said.
Speaking with
Stabroek News
, Donna Springer, a resident of the area related that the smell is affecting the entire village and some parts of Johanna Cecilia and Suddie.
"After lunch today, I was feeding my grandchild on my verandah when I saw a large object in the sea. I thought that it was a queer looking boat and didn't pay much attention to it but then later in the afternoon, we started to smell something really bad and it was after residents went out to the beach that they saw the whale," she recalled.
She added that the whale had a slit at the side of its belly and its intestines was protruding.
"The tide was low so the whale was in clear sight. The smell is affecting us a lot and we have to keep all the windows and doors closed. I have a four-month-old baby and there is a lot of other babies in the village so the smell is really bad for our health. I've never smell something like this in my life. We are hoping that something can be done soon about it," she added.
Stabroek News
was told that doctors, nurses and patients at the Suddie Public Hospital are also affected by the terrible odour.
Over the past months, whales have been beached on the Georgetown shoreline and in Berbice.