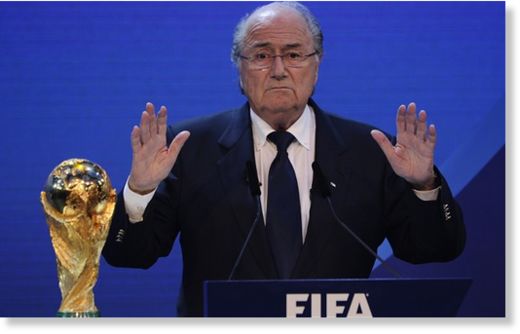 US senators are calling for Sepp Blatter to be ousted as the head of
Fifa
over his support for Russia's world cup despite Vladimir Putin's military intervention in Ukraine.
John McCain, the 2008 Republican presidential candidate, and another senator wrote a letter to members of the Fifa Congress urging them to deny Mr Blatter a fifth-term as the head of football's global body.
"In light of President Blatter's continued support for Russia hosting the 2018 Fifa World Cup - despite Russia's ongoing violations of Ukraine's territorial integrity and other challenges to the post-WWII security architecture - we ask that you reconsider your support for President Blatter's fifth term as Fifa President," the senators wrote.
Mr McCain and Robert Menendez, a Democrat from New Jersey, said that "allowing Russia to host the World Cup would bolster the Putin regime at a time when it should be condemned".
They added that more than 40 Fifa member nations had imposed sanctions on Russia in response to the fighting in Ukraine, which has claimed more than 6,000 lives according to the UN.
The senators urged members of the Fifa Congress to "deny the Putin regime the privilege of hosting the 2018 World Cup". Mr Blatter has been president of Fifa since 1998 but has been under fire for years following allegations of corruption within the governing body.
Qatar faced
numerous accusations
that it paid bribes to secure the 2022 World Cup but was cleared by a Fifa report last year. Mr Blatter has been accused of not taking seriously the claims of human rights abuses in both Qatar and Russia.