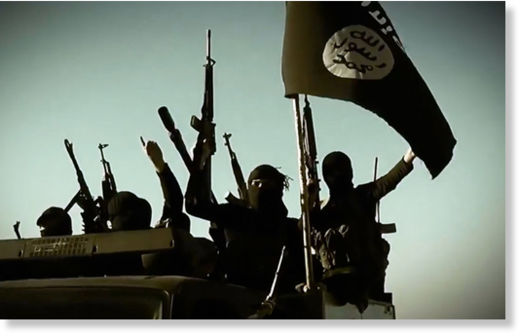 The Islamic State (Isis) group has released a new issue of its slick propaganda magazine Dabiq, featuring articles justifying the enslavement of Yazidi girls and condemning conspiracy theorists, as well as a report by British hostage
John Cantlie
.
The 79-page English language publication's ninth issue, titled They Plot And Allah Plots, opens with a front-page photo of US Secretary of State John Kerry posing with Arab foreign ministers after talks on an anti-IS coalition in Saudi Arabia in September last year.
The picture is followed by a piece praising a botched jihadi attack on a Texas cartoon contest, carried out by
two self-professed IS sympathisers
, earlier in May.
The gunmen, named as
Elton Simpson, 30
,
and
Nadir Soofi, 34
, were shot dead by a police officer guarding the event organised by hard-line conservatives critical of Islam at Garland's Curtis Culwell Centre near Dallas.
The publication also features an article suggesting that the terror group is losing militants to conspiracy theories.
Titled Conspiracy Theory Shirk (Sin) the piece implies that some fighters have grown delusional because of conjectures saying that IS is a puppet in the hands of western intelligence agencies.
"If the mujahedeen liberated territory occupied by the kuffar [infidels],
they would say that the kuffar allowed them to do so because kafir [disbelievers] interests' necessitated a prolonged war,"
the article reads.
"
According to these theorists, almost all the events of the world were somehow linked back to the kuffar, their intelligence agencies, research, technology, and co-conspirators! Conspiracy theories have thereby become an excuse to abandon jihad.
"
Pelted with Quranic quotations, the magazine details recent IS military actions in Iraq and Syria, particularly praising a suicide attack carried out by what it says were two German twins at an army base near Baghdad in April.
In another section, the publication justifies, on purported religious grounds, the
enslavement and rape of Yazidi women
kidnapped in northern Iraq in July 2014.
Part of the magazine is dedicated to portraying IS as a functional state rather than a terror group.
An article titled Healthcare In The Khilafah follows up on a video released in April, announcing the supposed launch of an Islamic State Health Service that
parroted the British National Health Service
(NHS).
In an attempt to lure Muslims living in developed countries to travel to a war zone, the article features pictures of clean hospital facilities and boasts of the opening of a medical college in Raqqa, Syria, and of a college for medical studies in Mosul, Iraq.
Claiming that the extremist group provides "the Muslims with extensive healthcare" the piece says: "The Islamic State offers everything that you need to live and work here, so what are you waiting for?"
The reality on the ground is very different. In March, Abu Mohammed, an activist living in Raqqa,
told
IBTimes UK that under IS rule, Islamist fighters were granted free access to health care but common citizens were not.
Mohammed said private health clinics in the city had been closed and the public hospital in Tel Abyad was open but charged high prices for treatment.
As in
previous issues
, the magazine ends with an article purportedly penned by British photojournalist John Cantlie, who was kidnapped in Syria in 2012 and has since appeared in a series of IS videos.
In it Cantlie slams the US policy in the Middle East and warns of the growing threat IS poses to the West.
The 44-year-old was captured with US journalist James Foley and held with other American and British hostages Steven Sotloff, David Haines, Alan Henning and Peter Kassig, who have been all murdered by IS militants.
He previously hinted he has accepted the role of IS news anchor/reporter in order to survive.